Now You Can Unlock iPhone 4S CDMA on Basebands Up to 04.10.01 With Gevey Ultra S
After Absinthe 2.0 jailbreaking tool release date were many speculations that Gevey Ultra S couldn't unlock iPhone 4S CDMA on 04.10.01 baseband. But there is an old info because today you can unlock iPhone 4S CDMA using Gevey sim. So now you can use it and enjoy your unlocked iPhone.
You may know that this unlocking solution was developed by ApplenBerry. But after untethered jailbreak there were problems to unlock iPhone 4S CDMA on baseband 04.10.01. And today is news that Applenberry solved that problem.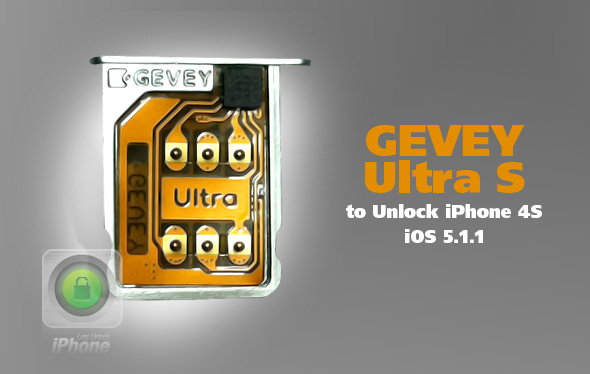 Gevey Ultra S for CDMA works only with preserve baseband up to 04.10.01 and it can't preserve baseband itself. You can update your iOS to 5.1.1 preserving old baseband using this guide and then jailbreak it and only after that to use Gevey Ultra S for iPhone 4S . Let's see what basebands and iOS Gevey Ultra S supports:
Supported Basebands
01.59.00
02.10.04
03.10.01
04.10.01
Supported iOS
iOS 5.0
iOS 5.0.1
iOS 5.1
iOS 5.1.1
If you found your baseband you have to jailbreak your iPhone using Absinthe and only then apply Gevey Ultra S for CDMA.
Here below you can see advantages of using Gevey sim.
Advantages of Gevey Ultra S
You don't have to dial 112 while restarting or interposer set up.
This method doesn't break Apple's warranty.
The F981 chipset used in this card uses 3 volts that allows your battery to last longer.
Improved signal strength for reliable voice and data connections.
Harmonizes with all SIM cards worldwide.
All you need is to buy Gevey Ultra S here for $49.99 and unlock your iPhone 4S CDMA running jailbroken iOS 5.1.1. If you have already done that you might need tutorial guide on how to use Gevey Ultra S.
How to Use Gevey Ultra S For iPhone 4S
Step 1. Remove your SIM card from the SIM tray and restart.
Step 2. After restarting, switch off 3G and cellular data. Put in Gevey Ultra S for CDMA together with your SIM.
Step 3. When Accept Screen appears – tap Accept.
Step 4. Switch on Airplane Mode and hold back until 'NO SIM CARD INSTALLED' message shows up. Turn off the Airplane Mode and tap OK when SIM FAILURE appears. You'll see a full signal bar revealed that you're now connected to your cell network.
If you've done that and see that you are connected to your cell network I can congrats you. You have just unlocked your iPhone 4S CDMA with Gevey Ultra S.