How to Decrypt Lost / Forgotten Passcode Using Gecko iPhone Toolkit
Have you forgotten the passcode on your iPhone? Has anyone changed it behind your back? There is a way to get it back. There is one program called Gecko iPhone Toolkit. We'll tell you how to use it. You should take some simple steps and follow our step-by-step instruction.
The program is must-have because it gives you the precious password back without making you restore your iDevice and losing all the information you had. There is one drawback in this method. Gecko app works on Windows PC with Java and .NET Framework installed only, so Mac owners are out of luck.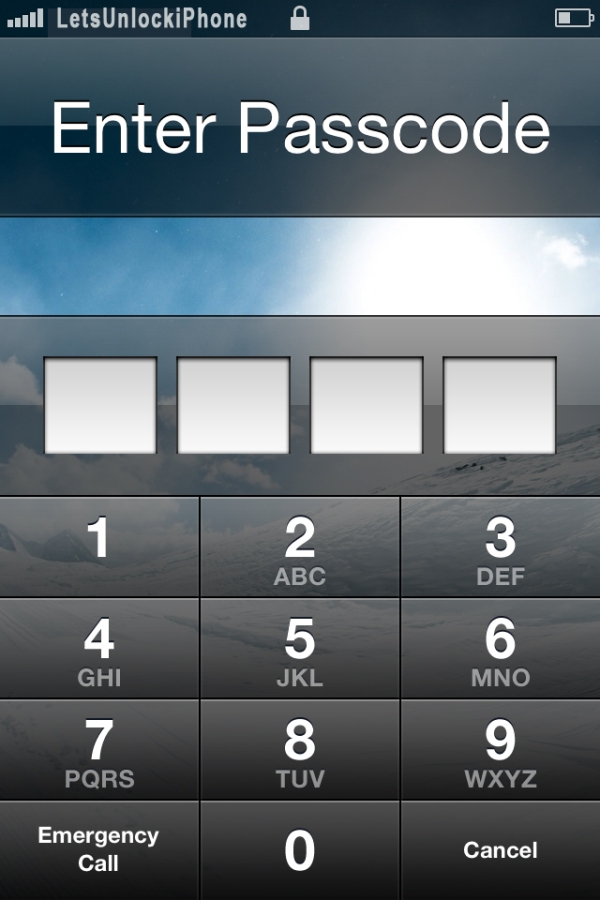 A List of Supported iOS Versions
The program works with iPhone on firmware version 4.x and up to 5.0.1, including:
4.0
4.1
4.3.1
4.3
4.0.1
4.3.2
4.0.2
4.3.3
4.3.5
4.3.4
5.0
5.0.1
As to iOS 6.x.x you can read about passcode bug in iOS 6.1.3 and how to bypass it.
A List of Supported iOS Models
Users who have iPhone 4 / 3GS, the original iPad, and iPod touch 4G / 3G are eligible.
How to Make Gecko Tool Read Your iPhone Passcode
Here is an instruction on how you can get back your smartphone or tablet password.
Step 1. Go here to download your version of Gecko iPhone Toolkit. You should use "nguyen12blog" as your password. There are alternative sources from where you can get the program. They are MediaFire and HotFile.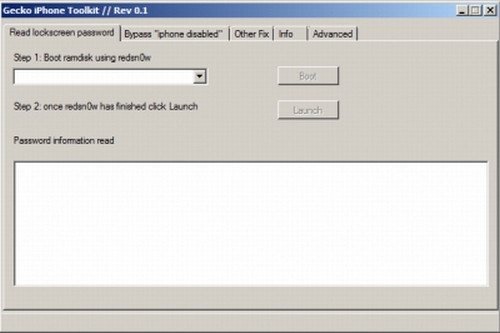 Step 2. It is necessary to connect iPod touch / iPhone / iPad [whatever gadget you have] to your PC.
Step 3. Run Gecko iPhone Toolkit and select the model you have. Click on Boot option to start and select the firmware you had from the very beginning [the original operating system version, not the one you have updated to in case you have had]. The program will show IPSW file you need and you can Google it and download in case you don't have it.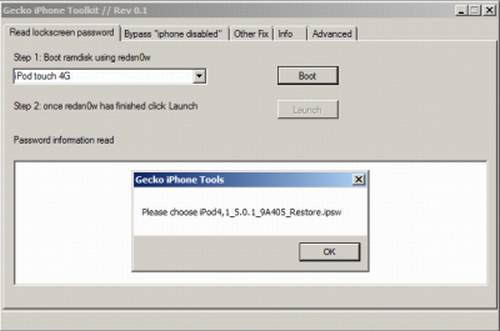 Step 4. You will see on-screen guide. Follow it and put the handset / tablet into DFU mode.
Step 5. Let Redsn0w complete the process. Press Cancel to get back to the main menu.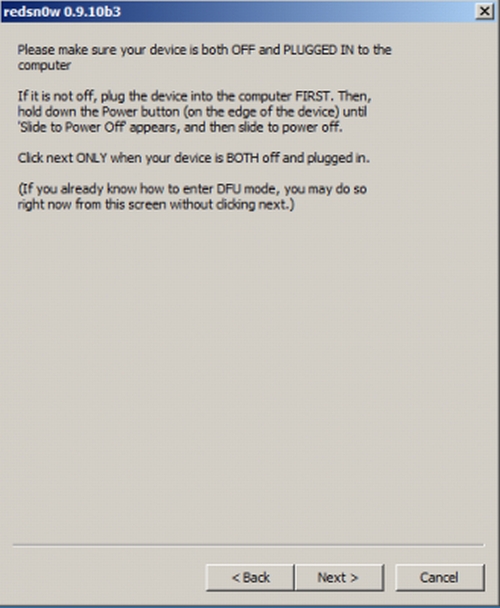 Step 6. Press Launch button.
Step 7. Now the program will read the lost or forgotten passcode. Sometimes it takes time to do this so don't worry, just wait a bit.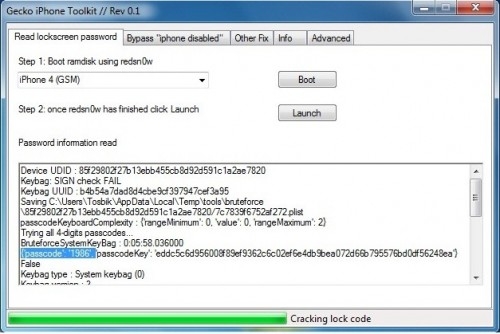 Step 8. The screen will display the passcode that was decrypted by the tool.
Step 9. Enter the password to unlock your smartphone or tablet computer.
No iPhone Disabled Mode Any More
The app is great to use in other situations too. Users who get stuck on Apple logo [for example, after you tried to install a new Cydia tweak] and people whose devices show iPhone Disabled message can run Gecko iPhone Toolkit to fix these problems.
P.S. We hope you will follow our instruction on your personal iDevices only. Don't use it for lost and stolen gadgets, please.