iH8sn0w Released Updated F0recast 1.4 for Mac and Windows [Download]
Earlier today iH8sn0w launched new update 1.4 for its f0recast and you can download it here below using direct links, as usual. 1.4 version supports iPad mini and iPhone 5 and you can download it for Windows and Mac.
The beginning of this week was really prolific for Apple fans and iUsers. Yesterday Cupertino company released iOS 6.0.2 for iPhone 5 and iPad mini. Also developer and not developer have the possibility to download iOS 6.1 beta 4 which supposed to be the last before iOS 6.1 release.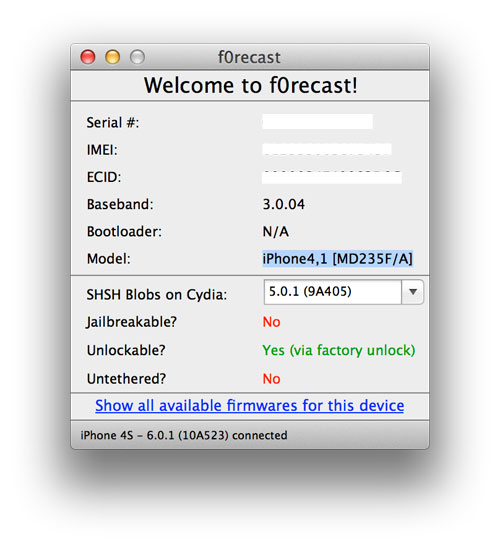 F0recast 1.4 was developed to determine the possibility of iPhone unlock or jailbreak. It works on Mac OS X and Windows, and makes it easy to find out whether it is possible to hack iOS device. Today, a new version of an application came with support for the latest models of iPhone and iPad and the number of new features.
To determine whether it is possible to jailbreak and unlock iPhone, just download f0recast 1.4 for Windows and Mac. After starting f0recast connect your device to your computer and find out the status.
You may know that earlier iH8sn0w developed Sn0wbreeze 2.9.7 to jailbreak iOS 6.0.1 however this jailbreak is tethered and if you want to find out if your iPhone or iPad jailbreakable use f0recast 1.4.
If the program writes Jailbreakable – Yes, then it is possible to jailbreak your iPhone or iPod touch. Similarly Unlockable – predisposition to unlocking. There are various methods for determining the possibility of jailbreak and unlock for iPhone, iPod touch and iPad, but the way that offers the utility f0recast is fastest and most reliable.
F0recast 1.4 Features
Check if SHSH blobs stored on the Cydia server.
Direct link to download the IPSW files to a connected device.
Support for latest Apple devices Apple (iPhone 5, iPod touch 5, iPad mini, iPad 4).
The built-in check for updates.
Improved interface.
Unfortunately this app doesn't show iOS 6.0.1 untethered jailbreak status but you can be sure that it is from few days to few weeks left to wait and hackers from iPhone Dev team or Chronic Dev team will release it for all iDevices.
Download F0recast 1.4
Feel free to use comment section for questions if you have some.