iMessage Sending Problems Were Not Only On iOS 6
Users of SMS application for iPhone, iPod touch, iPad and Mac known as iMessage experienced problems associated with the inability to send and receive data like text messages and pictures on iOS 6, 6.0.1 and 5.1.1. It was not for the first time, Apple messaging service suffered second crash in a week.
According to media reports, iMessage was not working for several hours on Sunday, November 18. In addition to iMessage, problems with video chat Face Time were too.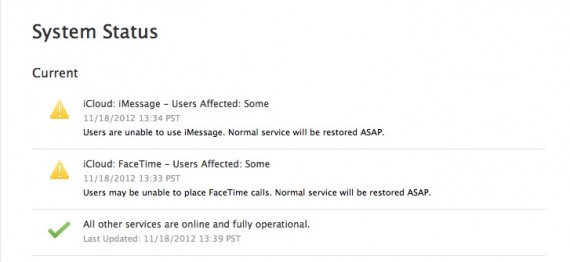 iMessage is a universal instant messaging service, designed for iPod Touch, iPhone, and iPad running iOS 5.1.1, iOS 6.0, iOS 6.0.1. You can use it to send and receive texts as well as pictures, videos, contacts completely for free. The technology was launched simultaneously with the iOS 5, Apple operating system for iPhone, iPod touch and iPad, and recently supported by Mac computers. Using iMessage you will have full synchronization of message history between devices of the same person.
According to information published on the Apple technical page, the problems with sending messages through the iMessage service had been lasted for about 2 hours and affected a small portion of users. According to some reports, they affected only the owners of iOS devices in the United States. But there is information that other countries had these iMessage problems too.
This is at least the fourth incident in the last 3 months associated with iMessage. Previous major failure of service was recorded in mid-September. Based on the numerous complaints on the Apple forum users haven't seen messages they send and could not transmit pictures. iOS owners stated problems with iMessage not working in Canada, India, Afghanistan and other countries.
Also many of them tried to fix this issue by restoring iPhone and updating to iOS 6 or iOS 6.0.1 because iOS 5.1.1 users suffered that problems too but it didn't worked.
I hope that Apple will fix iMessage not working problems in upcoming iOS 6.1 and you will be able to enjoy sending text messages and pictures for free.