Install iOS 9 Look on Original iPad or iPod Touch 3G
iOS 9 is the 2015-2016 Apple mobile platform for iPhone, iPod touch and iPad. Unfortunately it originally doesn't support early 'fruit' devices. For example, you cannot install iOS 9 directly on iPod touch 3G and you are not able to update your original iPad to iOS 9 or 9.2. At the same time, there is a trick that can help you bring iOS 9 to iPod touch 3G or iPad first generation table.
You can take advantage of one curious hack. It supports old Apple gadgets and can make their interface remind you of current iOS 9 platform. Would you like to give it a try?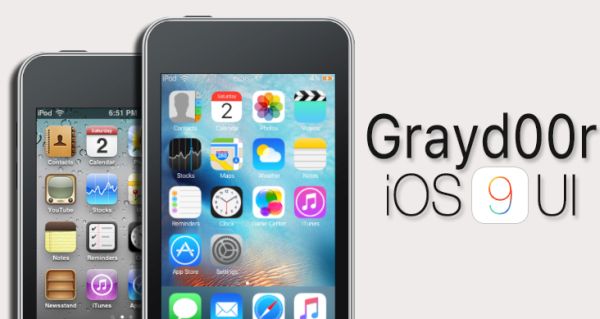 How to Get iOS 9 on Original iPad or iPod Touch 3G [1st Gen]
Step 1. You will have to download Grayd00r hack. This tool is similar to Whited00r that once brought iOS 7 feel to old 'fruit' iDevices.
Step 2. The tweak comes with some great features and it also brings you the similar look and feel as iOS 9 firmware version that supports iPhone 4S / iPad 2 and newer models.
Step 3. You'll be able to download the program from Grayd00r official site. The similar to iOS 9 tweak [hack] promises the following extras you can enjoy on your first generation iPad: OTA-update, Cydia store with bunch of useful tweaks, Control Center, SlideOver application switcher along with App Time Machine. This means you'll be able to download old versions of top iOS applications. Developers promise faster performance of their program which turns off some system services that are not-so-important. The options included offer better speeds and iOS 9 look.
Step 4. To install the program, you should restore the iPad 1 or iPod touch 3G and run Grayd00r tool on your computer. The hack is simple and performs the installation on its own.
What do you think about being able to get iOS 9 options on older iDevices?