iOS 8.1.3 – iOS 8.3 Jailbreak TaiG 2.0 Release [Download Links]
The rumors about Apple planning to release iOS 8.4 GM version made hackers to hurry and finally unveil the first iOS 8.1.3, 8.2 and 8.3 jailbreak TaiG 2.0. The program has been just present and you have now a real chance to untether your iPhone, iPad or iPod touch that is running one of these firmware versions.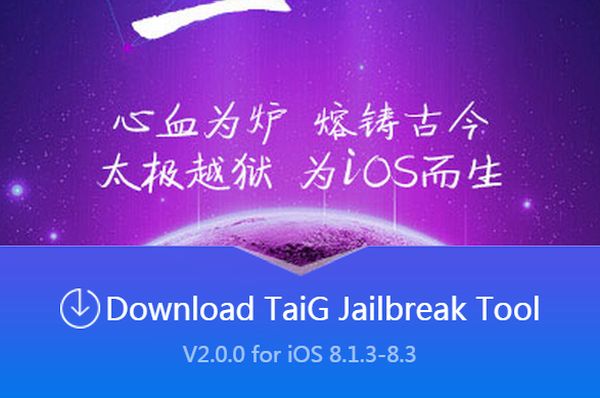 iOS 8.3 jailbreak release was long-awaited. There were a lot of rumors and expectations about it. Users hoped to get iOS 8.3 and 8.2 jailbreak download links and get Cydia store on their iDevices and developers were eager to update their tweaks as soon as the jailbreak tool becomes available to public.
There were some users who were skeptical about soon iOS 8.1.3 jailbreak TaiG launch because it took hackers several months to find the new exploits in the 'fruit' firmware and develop the program that can perform the jailbreak on all the firmwares that were non-jailbreakable for a long while.
It now looks that TaiG program supports all current iOS 8 versions. The original program can jailbreak iOS 8, 8.1.1, 8.1 and 8.1.2. The recently updated TaiG 2.0 can jailbreak iOS 8.1.3, 8.2 and 8.3.
Right now only Windows PC users can download and use TaiG 2.0 to jailbreak their 'fruit' devices. The Chinese group of hackers promise to soon launch the Mac version. Till then you can run Windows program on your Mac using a virtual machine and also untether your Apple gadget.
You can download TaiG 2.0.0 jailbreak for iOS 8.1.3-8.3 right now and become fully jailbroken today.
It is curious that other hackers from China Pangu also promise to unveil iOS 8.3 jailbreak soon. Apple still has some time to patch the exploits used in TaiG's new program in the new iOS 8.4 and 9. For some reasons hackers didn't want to wait until Apple unveils the final iOS 8.4 beta version and already offered their program to public.