Pangu Is Coming To Release Jailbreak For iOS 8.3
Recent reports tell about Pangu jailbreak iOS 8.3 release and that the team has also announced that a number of its famous members will participate in this year's Black Hat USA conference. This conference has been held annually in Las Vegas for the last eighteen years and it intended for the InfoSec community.
Just a day ago in the web appeared another Chinese group 'Keen Team' that stated that it is currently working on an iOS 9 jailbreak with support from the Pangu Team. So it is expected that Pangu jailbreak iOS 8.3 release could come very soon.
At the MOSEC security conference in Shanghai Pangu team has recently demonstrated an iOS 8.3 jailbreak. And this August conference excellent playground for the Chinese team to discuss the Apple's iOS security design in greater detail.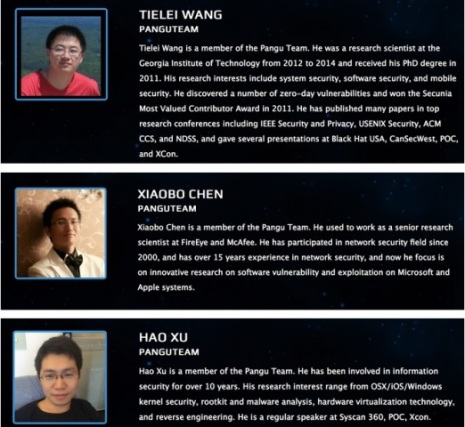 Without speaking it is understandable that now a major attention will be focused on iOS 9, considering the fact that it was officially introduced during Apple's WWDC 2015 keynote earlier this week.
What is more recent reports state that another famous team in the jailbreak scene TaiG has claimed that currently they focus on an iOS 9 jailbreak, paying no intention on an iOS 8.3 or iOS 8.4 jailbreak solution release.
In its turn Pangu Team currently puts all of its collective efforts on iOS 8.3/8.4 and will discuss the security of the current-generation firmware in a talk that is titled "Review and Exploit Neglected Attack Surfaces in iOS 8".
The two-day Black Hat USA conference will be held in Las Vegas during August 5-6 and will feature the talk presented by Pangu Team members Tielei Wang, Hao Xu, and Xiaobo Chen. The presentation is aimed primarily at the experienced InfoSec community and will likely go immediately over the head of average iOS device users.