iOS 9 Beta Tester Limitations Don't Let Users Review Apps
If you are participating in iOS 9 beta testing program introduced by Apple this summer you get some limitations you'll have to deal with. Previously public beta testers could test the firmware on their iPhone, iPod touch or iPad and report iOS 9 bugs they discover directly to the Cupertino-based giant. Besides they were able to review applications.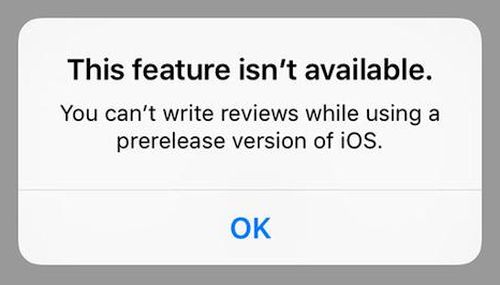 Developers didn't like this idea. Finally Apple brought iOS 9 beta tester limitations and no longer lets users submit reviews on the App Store while being a public tester. In other words you have installed iOS 9 beta on your iDevice and search for possible issues and problems you are not able to leave reviews for applications and it doesn't matter if you were trying to submit negative or positive review.
Users who still try to add iOS 9 beta app review [here is how to download iOS 9 beta 3] will get the pop-up message from the Store that explains that such an option is not available. The whole idea of testing beta build is to find negative moments and fix them by the time the firmware goes public. Still some users who downloaded the beta version of mobile firmware also left reviews for beta apps and a lot of reviews were negative.
The fact that beta applications and games crash is not a secret. There are a lot of moments when things don't perform because betas are always buggy. Some people didn't seem to understand this and they hurried to leave a warning to potential application customers without realizing they were running just a beta version.
At the same time Apple still allows public testers to give star ratings to the applications they are testing on the beta system. The company didn't fix this moment yet. Will Apple give benefits to devs whose application rankings dropped because of a big number of negative reviews? The iOS giant will mostly come with such a decision.