How to Report iOS 9 Beta Bugs to Apple
Are you participating in iOS 9 public beta testing program? If so you might want to learn how to send your iOS 9 beta feedback to Apple and help the company improve its next mobile firmware version for iPhone, iPad and iPod touch. This next release might support both iPod touch 5G and the newest iPod touch 6th generation that was launched in the middle of July.
Follow our instruction and you'll learn how to also report iOS 9 bugs to Apple. All testing versions always have issues and problems that have to be fixed by the time the software becomes public. Actually, Apple allowed public testing its firmware for the first time in hopes to make it better and smooth.
How to Report iOS 9 Beta Bugs
Step 1. All users who have updated to iOS 9 beta 3 or iOS 9 public beta version get a couple of new tools on their gadgets.
Step 2. Take your iPhone or other device that is running this firmware version 9 and find Feedback Assistant app.
Step 3. Whenever you come across a bug or problem that requires Apple's attention you need to create a screenshot [it's great if you can do this].
Step 4. Now, when you have the screenshot you can launch Feedback tool. You might be asked to provide your Apple ID / password to use it. That's ok.
Step 5. You should fill out the form you'll see and attach the screenshot or ever create a video of the issue [option 'Add image or video' is available at the form's bottom]. Be as detailed as possible and describe the bug, issue or problem the best way you can, if you can identify the type of bug this will be awesome.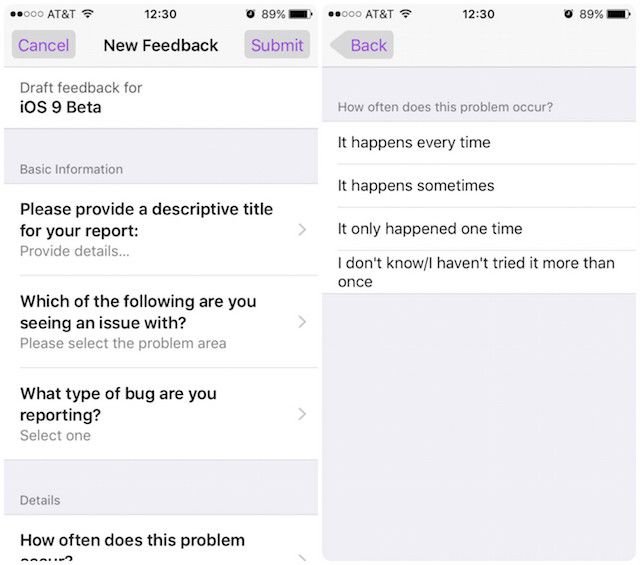 Step 6. Click on Submit.
Step 7. That's it. You have successfully sent your report to Apple.
Hopefully the next iOS 9 will have less bugs than iOS 8.