iPhone Update App Store Instruction to Force Refresh and Fix Bugs
Sometimes you experience bugs with App Store on your iPhone. For example, you have successfully update the program and then you find out that the App Store displays the app as Pending Updates one while there is no longer 'Update' option available. You can force update App Store to fix this problem.
The guide is fast and simple. You can solve the issues not by forcing to close your App Store as this doesn't help most users but with force refreshing it. Here is what you need to do.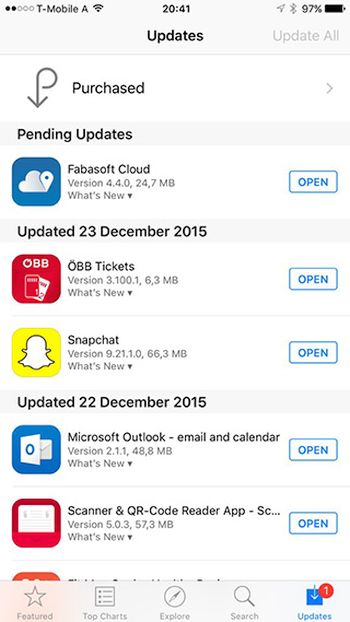 How to Force Refresh iPhone Update App Store Guide
Step 1. If you get the Pending Updates message for the application that you have already upgraded and there is no 'Update' feature [only the 'Open' option is present] you should solve this bug. Take your iPhone or iPad in your hands.
Step 2. Look at the bottom. Do you see Top Charts, Feature or Updates in your iOS 9 App Store [here are direct iOS 9.2 download links in case you are searching for the most recent public mobile firmware for iPhone]?
Step 3. Tap on any of these tabs at the bottom.
Step 4. You can even tab multiple times to make sure force refresh option really updates your application.
Step 5. Some users report it takes them 10 attempts to fully refresh their App Store.
The bug with application updates should be fixed. If it repeats you'll know what to do the next time you are not able to update the app because it's already updated by you.
These are some fun iOS 8 and iOS 9 tips and tricks you can use when you come across the App Store issues on iPhone and other Apple devices. Has it helped you out?