Pod2g: Open iOS 7 is The Best Method To Use Tweaks and Mods Without Jailbreak for iPhone 5
Bad news for those who is waiting for iPhone 5 untethered jailbreak because according to pod2g and Open iOS Twitition there will be no chances to see it. The phrase WeWantAnOpeniOS on Thursday, January 3, was on the top of world trends in Twitter. Apple iOS was the first line of references.
The story began with a discussion of iOS in the pod2g's Twitter account. Known iOS jailbreaker has expressed the hope that in the absence of jailbreaking the company can open up iOS for tweaks and mods. He mentioned the fact that some of his fellow geeks have moved from iOS to Android because of the Apple OS protection.
Pod2g hopes that the lack of iPhone 5 untethered jailbreak is the signal for Apple to make iOS more open to tweaks and modifications. However you can read facts about iOS 6.o.1 untethered jailbreak and still hope for it because pod2g said that it is not the end and we will be able to jailbreak iOS 6/6.0.1.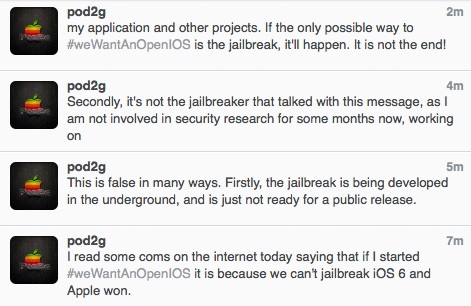 Pod2g said that several of his friends, who have long used the iPhone, bought Samsung Galaxy S III. According to the developer, he still hopes that iOS 7 will be able to more easily customize the system. Because we all know that there is no chance to release iOS 6.1 jailbreak and Apple won't make modifications in the following iOS update. In order to be heard in Cupertino, Pod2g created a special hashtag # WeWantAnOpeniOS.
After four hours, the movement for open iOS was on the top of a list of popular requests in Twitter supported by the army of many thousands of hacker's subscribers.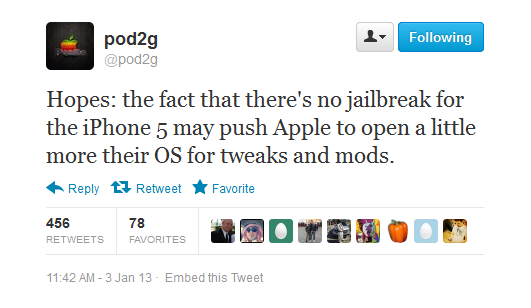 The release of iOS 6 took place simultaneously with the iPhone 5 in September 2012. So far, attackers do not found a way to release a public exploit for jailbreaking this firmware. The last is iOS 5.1.1 untethered jailbreak for all iDevices.
Current iOS can not be broken on most mobile devices. There is no iPhone 5 untethered jailbreak as well as for iPad Mini, iPhone 4S and iPad 2, 3, 4. So, if you are the user of iPhone 4, 3GS or iPod Touch 4 you can jailbreak iOS 6 tethered and wait for untethered.
It seems that Twitition by pod2g for open iOS can be seen as hackers' defeat. That's why hackers began to ask Apple to give more access to SDK  and API to give possibility to instal tweaks and mods.