Steve Jobs Postage Stamp Becomes a Part of 2015 Collectible Series
Steve Jobs, the former CEO at Apple, is honored with a commemorative postage stamp that should be printed next year. Some people call him iGenius, others believe this man was just a man during his life, but everyone agrees that Apple has become popular and powerful with Steve Jobs being its CEO.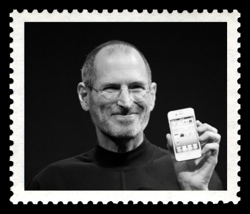 His ideas have changed the world of smartphones and tablets. The iPod, the iPhone and the iPad are now known by mostly anyone who using electronic gadgets for work and entertainment. Users who are true iOS fans will surely like to get one the Steve Jobs postage stamps in 2015. This can be a great addition to the collection of commemorative postage stamps.
The Steve Jobs stamp is indeed to be presented as a part of the collectible 2015 series, as the Washington Post reports. The exact release date is currently not specified but it will surely appear at some point in a year from now.
Designers are still working on the commemorative Steve Jobs postage stamp. This is not the first honor for the iPhone creator. Jobs achievements were also honored with a Disney Legends and Grammy Merit Awards along with several movies about the life of iGenius.
John Lennon, Johnny Carson and Michael Jackson will also be honored with postage stamps, according to the WP.