Let's Talk About Ultrasn0w Unlocking Tweak
UltraSn0w – software unlock that was developed by iPhone Dev team to give a chance to enjoy any Sim card on iPhone 4 and iPhone 3GS / 3G. This tweak is freely available in Cydia store which you can get after jailbreak. This is one of unlocking methods and also known as software unlock.
To perform unlock you don't need only to jailbreak iDevice, but also preserve unlockable version of iPhone baseband, which coincides with the ones listed below. The easiest way to preserve baseband is using Redsn0w, Sn0wbreeze but the utilities have not yet been updated to iOS 7.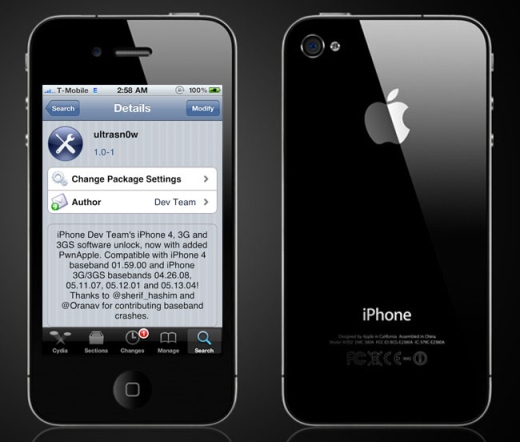 The traditional rule is still valid: never restore or update locked iPhone after installing and using Ultrasn0w. It will update baseband and it is irreversible operation for the new iPhone 4 and iPhone 3GS.
Note: Unlock is not necessary if the phone is officially unlocked (factory unlock). Also if you trying to fix No Service first find out the real reasons of such error and try to fix it using different methods.
The latest version of UltraSn0w 1.2.8 works with iPhones running iOS 6.1.3 and lower firmware with such baseband versions:
iPhone 3G and iPhone 3GS
04.26.08
05.11.07
05.12.01
05.13.04
06.15.00
05.14.02, 05.15.04, 05.16.01 basebands can and need to be updated to 06.15.00 (iPad baseband)
iPhone 4
Unfortunately this tweak doesn't work on iPhone 4S, iPhone 5 and iPhone 5S. And I think it never be supported by these model. But if you are the user of iPhone 4 and lower you can follow detailed guide on: