Few Tips Help Fixing WiFi Not Working On Mac Yosemite
If you have no idea how to fix WiFi not working on Mac Yosemite check the resolution below. This issue can appears because of slow networking connections, frequent disconnects. Also simple just disability to connect to the internet network at all, despite being on a Wi-Fi network.
Look through these few tips. They should help you to fix WiFi issue on Mac.
Remove Network Configuration Files
Many users have reported that they had deleted network configuration related plist files and the problem had disappeared:
Step 1. Turn Off Wi-Fi from the Wireless menu item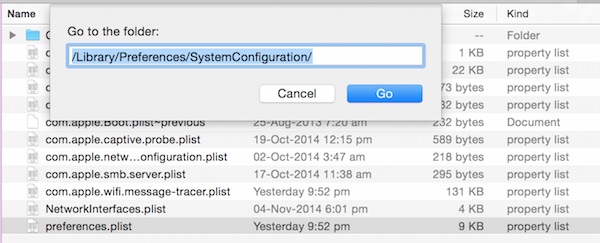 Step 2. From the OS X Finder, push Command+Shift+G and put the following path:
/Library/Preferences/SystemConfiguration/
Step 3. From the folder select these files:
com.apple.airport.preferences.plist
com.apple.network.identification.plist
com.apple.wifi.message-tracer.plist
NetworkInterfaces.plist
preferences.plist
Step 4. Put all of these files to the folder on Desktop. You can call it for example 'WiFi backups'. In case something will go wrong you can easily restore them.
Step 5. Reboot the Mac
Step 6. Now you can turn on WI-Fi from the wireless network menu again.
Change DNS Server
Try to change your DNS server in case you find that your Wi-Fi is connected, although you cannot connect to the internet:
Step 1. From the Apple Menu open System Preferences.
Step 2. Tap on Network.
Step 3. Select Wi-Fi and tap on Advanced.
Step 4. Select the DNS tab.
Step 5. At the bottom tap on the + button to add a DNS server. From the available DNS servers find Google's DNS servers. To use Google's DNS you should add one or both of these IP addresses: 8.8.8.8, 8.8.4.4.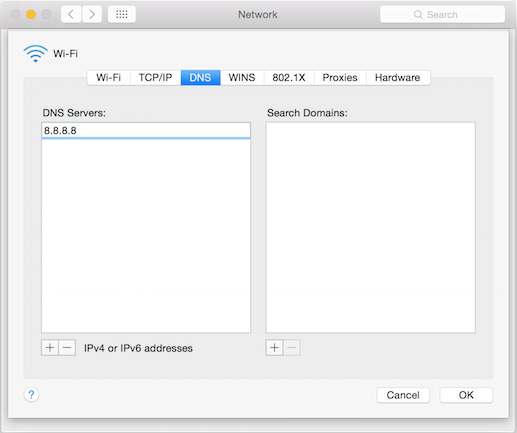 Step 6. Then tap on the Hardware tab and you should change Configuration from Automatically to Manual.
Step 7. Then tap on MTU, and select Manual. Enter 1453 as the MTU Number.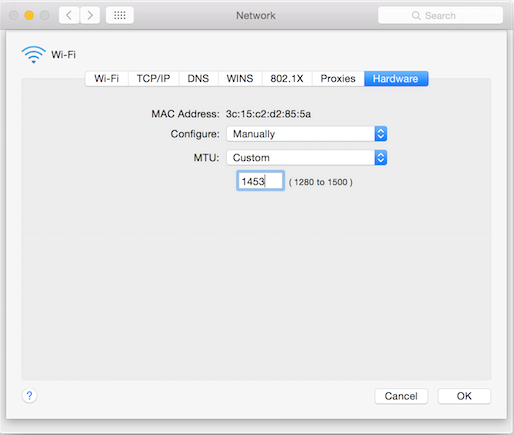 Step 8. Tap on ok. And then tap on apply to put these changes into action.
Step 9. Open the apps in which were WiFi issue. Look if everything goes well, you'll not face such issues.
Refresh discovered service
Another thing you can try:
Step 1. Please open Terminal. You can find in /Applications/Utilities/ or with Spotlight. Then enter the following command:
sudo launchctl unload -w /System/Library/LaunchDaemons/com.apple.discoveryd.plist
Step 2. To use the sudo command push return and enter an admin password
Step 3. Now run the following command to reload discovered (this used to be called mDNSResponder)
sudo launchctl load -w /System/Library/LaunchDaemons/com.apple.discoveryd.plist
Step 4. Again push Return to finish the command.
You may have to to relaunch apps that demand networking connectivity. Please note if you restart the Mac with this one particular, you will ought to to do these above steps again for unloading and reloading discovered into launched.
We hope that one of these tips will help you to to fix WiFi not working on Mac Yosemite.