Turn iPhone Call Interface into Banner with iOS 9 Jailbreak Tweak
It is possible to create iPhone call interface banner and have it placed at the top of your smartphone screen with two third of the display being free to use. This way your iPhone answer or decline options are still available while you are able to do something else and use your handset at the same time.
iOS 9 firmware is still jailbroken. You can use Pangu Windows jailbreak for iOS 9 – 9.0.2 if you haven't jailbroke yet. All newer mobile operating systems released by Apple are currently non-jailbreakable. Lucky jailbroken users can enjoy iOS 9 call jailbreak tweak that can be found on Cydia store. You should note that it costs $3.99 so take a look at the features brought by the tweak.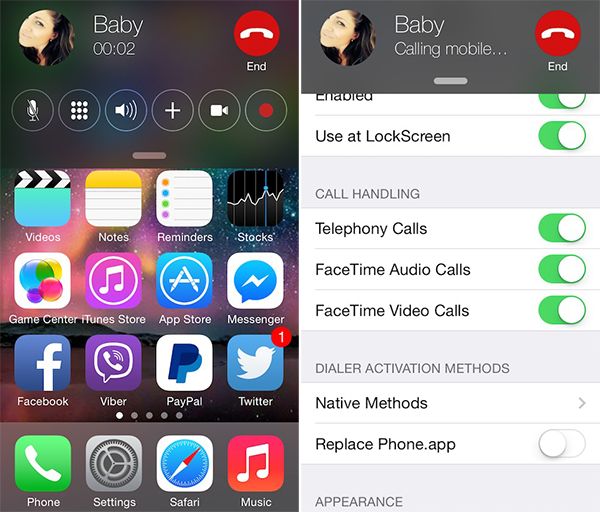 The tweak is called CallBar. It has been recently updated and now solves all previous bugs. For example, devs solved the freeze problem with iOS 9 NightMode and brought full compatibility with this new Apple feature. They have also fixed the crash and other freeze issues. The tweak should now display time of call in Recents and enhanced your Contacts UI in CallBar.
There are many other minor issues that had to be solved and everything is done in the update. The iOS 9 tweak for your iPhone is an interesting addition. Experts and users who have installed it are sure that it is worth every penny still you can search for free Cydia tweaks iOS 9 alternatives. It's curious that all users who are already signed for CallBar will be forced to pay $3.99 for using the update. Thus you might wish to find a different tool that also improves the call interface and lets you use the iPhone while answering or declining the phone call on iOS 9.