How to Turn iPhone Flashlight On with a Tap
Is your iPhone jailbroken? Great news! You can download tons of different tweaks from Cydia for iOS 8 and iOS 9 depending on what platform you are currently running. Unfortunately users who updated to iOS 9.1 are not able to jailbreak with Pangu jailbreaking tool which supports only iOS 9 – 9.0.2 firmware versions. Users with previous versions who performed the jailbreak get more opportunities and can use special jailbreak flashlight activator on their iDevice.
Normally the iPhone flashlight turn on requires accessing Control Center. But this becomes much faster and simpler if you download one useful tweak. Keep on reading to learn more about the great flashlight jailbreak tweak and add more light to your dark times.
How to Turn iPhone Flashlight On with a Click
Step 1. Visit Cydia and download the free LockBeam program. This app is superb and very easy to use.
Step 2. Remember to respring after installation.
Step 3. There is no pane to adjust the settings. The tweak starts to work as soon as you install it and respring the iPhone.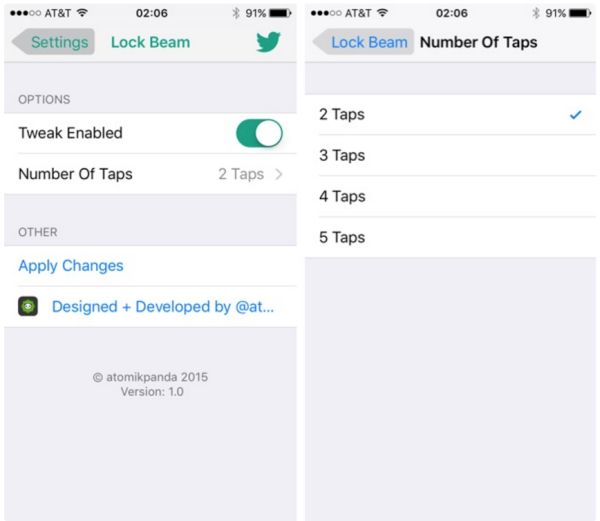 Step 4. The default settings allow you turning flashlight on with two taps. You can change the number of taps through Settings – LockBeam where you can get to Number of Taps and select from 2 to 5 taps. You should press on Apply Changes to use your new settings. Remember to resping.
Step 5. When your iPhone screen is locked you can tap once on Sleep / Wake button and tap the screen to enable the flashlight.
Do you like to turn on the iPhone flashlight with a tap or a couple of taps? It's surely much faster than if you decide to enable the same feature through iOS 9 Control Center, isn't it?