Unlockize Cydia Tweak Brings Cool Unlock Effects
Unlockize Cydia tweak appeared after huge success of Anton Kudin's Unfold tweak. Russian designer inspired two Cydia developers to use his concept and make them real. The new tweak includes the key aspect of previous one but adds much more cool effects (actually five) which look amazing on your iPhone's screen. However, they cost $1.99 and it' up to you to decide to buy it or not.
The Unlockize Cydia tweak has six different types of unlocks. Here are they:
fold to unlock
slice to unlock
fade to unlock
open blinds (tall)
open blinds (wide)
checker to unlock
You might be familiar with this 'fold to unlock' view as it was used in Unfold tweak. Well, here it works pretty much the same way and you can slide your finger across the lockscreen folding and unfolding it as much as you want. The animation is pretty amazing.
The rest of the options are cool too. What is interesting if you choose multiple options at the same time they will cycle through each other. If you'll choose all of them at once, they will just go through each of those unlocks.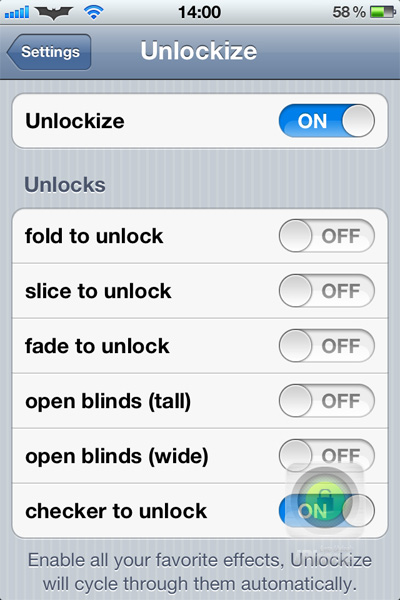 If you have the passcode enabled on your iPhone, the Unlockize tweak will just bring you to passcode screen as soon as you slide through the lockscreen. You just put you passcode in and you're good to go.
The Unlockize Cydia tweak is pretty decent and nice looking so if you feel like you need to customize your iPhone's lockscreen and looking for some solution – that's might be exactly the right choice. If you're still not sure that you want it – head over to Cydia and download Unfold tweak from BigBoss repo. This one is free and you can feel like it works and then get the paid solution for two bucks.
Do you enjoy tweaks like Unlockize? Do you feel much into jailbreaking and customizing your iPhone and are you already on untethered jailbroken iOS 5.1.1? Let us know in the comment section under the article.