New WinterBoard Update Brings iCloud Backup Crash Fix
iCloud backup crash fix is one of the common issues that users faced with. WinterBoard was today updated to 0.9.3918 version to fix bugs that were reported by users.
The great thing about jailbreaking is the ability to change with you own taste the look and feel of your iOS device. You can change the same screen look that greets you every day by the boring default look of the iOS with the new fresh figuration. WinterBoard lets you to do just that. It allows you to download custom themes from Cydia, that can be used to completely change the look and mood of your favorite iOS device.
Saurik, founder of Cydia, WinterBoard developer has updated for iOS 8 – iOS 8.1 some time ago. Although it was possible to use WinterBoard on iOS 8 – iOS 8.1 device, it had many bugs. With the Winterboard 0.9.3916 release, things became a lot more stable. But there were still few bugs. This new 0.9.3918 release destroyed many bugs and issues reported by many users, including one common that could cause iCloud backup crash, as user didn't have any ideas how to remove it.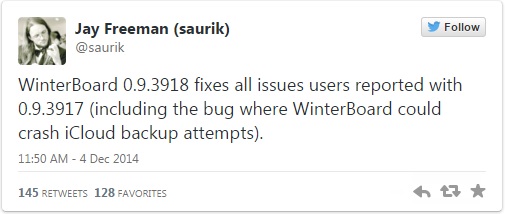 Saurik introduced the following details about the new 0.9.3918 version. Here's the full change log:
Fix iCloud backup
Skip corrupt PNG files
Prioritize loading @3x
Avoid band Info.plist
You can download and install the new WinterBoard update from Cydia on your favorite jailbroken iOS device. So now with the new 0.9.3918 version you can iCloud backup crash fix if you faced with this issue. You can also add many WinterBoard themes available to your iOS 8 device.