Apple Closed Root Exploit Found by Comex So It Can't Be Used In iOS 6 Jailbreak No More
Jailbreak developers have been enjoying root exploit found by Comex for two years. But now I found info that this exploit can't be used in iOS 6 jailbreak.
You can install iOS 6 beta if you need it but what about jailbreak for it? Apple company closed Comex's root exploit in iOS 6 and goodbye easy jailbreak. But I thing that it is not the end in the mouse and cat game between Apple and jailbreak community. Developers from iPhone Dev Team are not fools and they will definitely find new exploits in iOS 6 to jailbreak it even untethered.
The news that Apple closed Comex's root exploit in iOS 6 came from Pod2g and this exploit was used to get root access to iPad, iPhone or iPod touch. But developers don't lose the hope to jailbreak iOS 6 using the same exploit but with some modifications.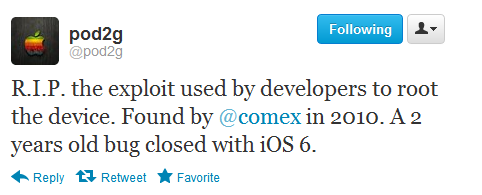 Also pod2g said that iPhone Dev team has unreleased jailbreaks that they used to inject code into a kernel to discover openly releasable exploits. So it is possible that one of these exploits can be used in future jailbreak.
However we have tethered iOS 6 jailbreak made by MuscleNerd. This jailbreak is tethered and was tested on iPod Touch 4G using RedSn0w 0.9.13dev1 and you can try it to get SSH access to your iPhone File system. And that is really good news. Also we have GeoHot's exploit which is claim to be used in jailbreak for A4 devices for life and Musclenerd confirmed that. It is one more step to release of untethered jailbreak for iOS 6.
However Apple didn't say much about found by Comex root exploit. May be the company does not want to open its sources. So its all depends on iPhone Dev team or other enthusiasts.
I think that there is no need to worry and we will enjoy jailbreak on all future iOS from Cupertino company. The work under jailbreak has begun. Hackers are working hard to complete it using iOS 6 beta version. And don't think about that Apple closed Comex's root exploit in iOS 6 because I think it's not the only one exploit that can be used.
In case you don't want to be on iOS 6 you can always downgrade it to iOS 5.1.1 and I have a guide for you to perform it quickly.
What do you think about that? Can we forget about jailbreak after official release of iOS 6? Tell me what do you think about closed Comex's root exploit in iOS 6 using comment form below.