How to Bring 3D Touch on Cydia iPhone 6 iOS 9 with Jailbreak Tweak
There are several different 3d Touch Cydia tweaks [it is now possible to change your iOS 9 system fonts on iPhone]. Some of them can enable options similar to iPhone 6s and 6s Plus 3D Touch [Force touch] on earlier Apple smartphones. Others are even more interesting and innovative as they can bring iOS 9 3D Touch support to Cydia store. We want to talk about one of such applications.
If you happen to own iPhone 6 that is running iOS 9 and jailbroken with Pangu program [Pangu is the only working public iOS 9 – 9.0.2 jailbreak untether solution available today, no other hacker team has released its untethering program to ordinary users yet].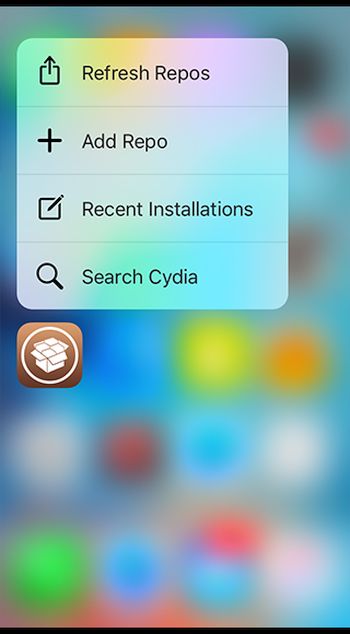 How to Add iOS 9 3D Touch Support to Cydia
Step 1. You should download the tweak Tactful which is a free package available on BigBoss repo on Cydia.
Step 2. Install the tool on your iOS 9 jailbroken iPhone.
Step 3. With Tactful on your iPhone you can use 3D Touch gesture on Cydia application icon. This will bring up the menu with 4 options, including Add a new repository, Refresh repositories, Search for Cydia package and View all the tweaks you recently installed on your iDevice.
Step 4. Using the 3D Touch gesture on iOS 9 platform you can make your Cydia much better, easier and faster to use. This saves some time as you can get to the menu via a single gesture.
Step 5. You can tap on any of the four options and get directly to the menu to accomplish your task. For example if you need to add a new source to your repos you should click on the Sources and enter the URL of your choice. There is no need to launch Cydia and search inside now if you install the 3D Touch iPhone 6 jailbreak tweak Tactful.
Different 3D Touch jailbreak options are available for iOS 9 and iOS 8 platforms. They can make your life so much better. Believe us.