Bring Apple Watch Notifications on iPhone [iOS 9 Jailbreak Tweak]
You can change iPhone Notification Center notifications on iOS 9 firmware and make the similar to what Apple Watch offers. You should be jailbroken which is currently possible on several iOS 9 versions up to 9.0.2. Unfortunately iOS 9.1 jailbreak state is still not confirmed and there is now program that can untether this latest platform.
Once you install the tweak you will change iPhone notifications iOS 9 and find the card-like previews of notifications you have. There will be no strings of text any more. The jailbreak tool is capable of sorting the cards based on the application they belong to. There is even the jailbreak tweak for iOS 9 that brings 3D Touch on Cydia and this is cool as you can also add 3D Touch option similar to what iPhone 6s has on other models.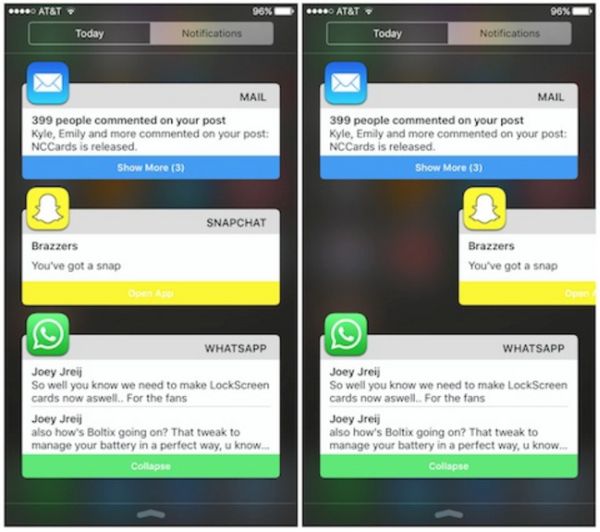 Change iPhone Notification Center Previews on iOS 9
Step 1. The BigBoss repo has the NCCards tweak that costs $2.99. This is the tool that is inspired by Apple Watch notifications and can bring them on other iDevices that are running iOS 9 version. If you are eager to pay for the tweak – download and install it.
Step 2. The tweak is fun if you have the Apple Watch and wish to get similar experience on the iPhone.
Step 3. You can adjust your likes in the tweak's pane that appears in Settings after installation. There are different customizations you can use. For example, it is possible to change the color of text and background for the cards top / bottom bars and background of notifications. It is also possible for the color to change accordingly to the main application color.
Step 4. If you think that your cards take too much space you can make them collapsed. This way you can free up some space.
Step 5. You can collapse and expand your cards.
Step 6. If you tap-hold the top of the card you should the option to clear all notifications which is very useful.
What do you think about this jailbreak tweak for iOS 9?