Cannot Connect to iTunes Store: App Store Is Down
A lot of iTunes and App Store customers have been experiencing problems with this software and still keep reporting that iTunes is down. "App Store no connection" issue is widely discussed by Twitter users who update their posts and wish it to be resolved as soon as possible.  Do you believe iTunes is down because Apple is fixing something or is about to launch the new iTunes 11 version?
It's true that a lot of iOS customers today couldn't purchase and update applications via the App Store and iTunes. They kept seeing this message, "Cannot connect to iTunes Store. Ok" and surely wished to share their problem with other users who faced it as well.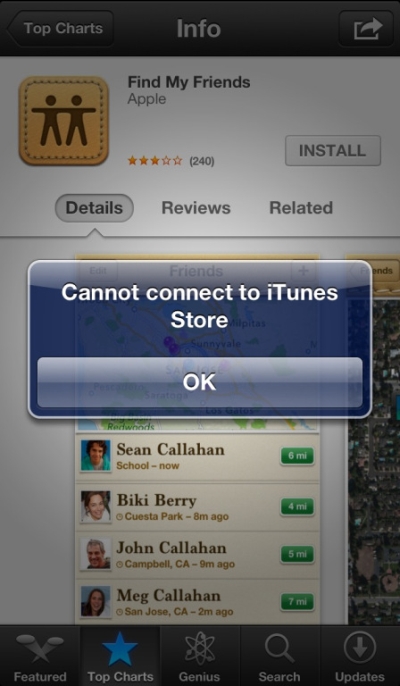 iTunes Is Down…
The number of reports is pretty huge, as being reported by different websites devoted to Apple products. "iTunes no connection" issue is mentioned in different regions worldwide. People who came up with it state that it is possible to browse iTunes, still it is impossible to download anything or update apps and games you have already purchased.
The problem doesn't affect every iTunes customer, just many of them. Some users who couldn't connect to iTunes Store have already recovered while some customers still complain that their App Store is down and won't let them do what they want to.
Report Your Problem
We just wanted to tell you that in case you have no connection with iTunes / App Store, you are not alone. There is a big collection of Twitter posts from people from all over the world who are unhappy with Apple right now.
While we are going to keep an eye on this iTunes Issue, we would like you to report  in the comments below if you are able or not to download programs from iTunes. In case you have figured out how to fix it, please, let others know this.