Cool Low Power Mode Jailbreak Tweak for iOS 9 iPhone
Apple introduced iOS 9 Low Power mode to help its iPhone users save some battery life. It reportedly can make your battery last for extra 3 hours. It can be handy when you cannot charge your smartphone but really need to be connected and available for friends, family or business partners.
There are many useful iOS 9 jailbreak tweaks and help to easily turn on and turn off the Low Power option. You should use Pangu jailbreak instruction for iOS 9 – 9.0.2 firmware version before you are able to download and install the tweak that simplifies everything.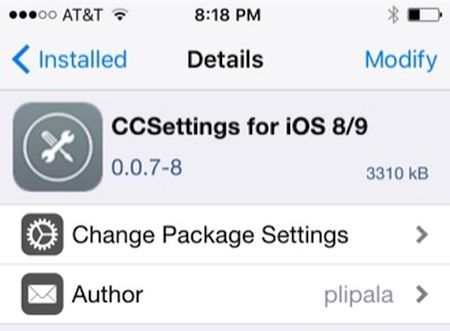 How to Use Low Power Mode Jailbreak Tweak on iOS 9 iPhone
Step 1. Remember that even if you are not jailbroken you can enable the Low Power option through Settings where you can choose Battery – Low Power mode. It will turn on automatically if your battery life is only 10-20 percent full.
Step 2. There is a faster method for jailbroken users. Download CCSettings tweak from Cydia store. This is a free extension you will enjoy using. Remember to respring once the tool is installed.
Step 3. Open Settings to configure CCSettings and move your Low Power Mode to the Include menu.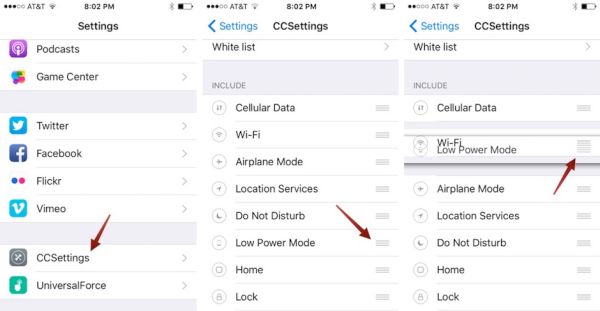 Step 4. Pull up your iOS 9 Control Center and you'll be able to enable the Low Power option. This is extremely fast and easy-to-do.
What do you think about the free tweak? Is it better when you can turn on your Low Power mode and preserve your battery life with a single tap? I think that such a tweak is must-have as it saves your time and you don't have to remember the navigation path to the original feature offered by Apple in its new iOS 9 firmware version.