Download Redsn0w 0.9.15b3 For iPad Mini and iPad 4 and Fix Errors
Yesterday iPhone Dev team released another update for its Redsn0w tool. Here below you can download Redsn0w 0.9.15b3 and jailbreak iOS 6.0.1. Apple launched new iOS update as well. Now you can update your device to the new iOS version and then jailbreak it using new Redsn0w tool.
However I have to say you that if you are waiting for iOS 6 untethered jailbreak you better stay away from the update. You can follow this advice but I think that iPhone Dev team or any other team of hackers will release untethered jailbreak for iOS  6 and 6.0.1 as well. But don't risk. If you don't care go here to download iOS 6.0.1 from direct links.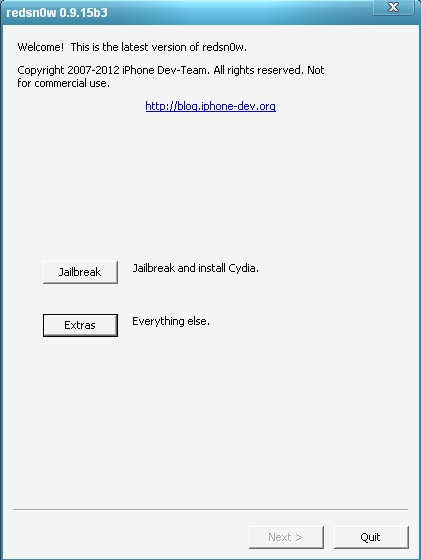 But let's talk about Redsn0w 0.9.15b3. This version doesn't only bring support for iPad Mini and iPad 4, it fixes 2601 iTunes error during restoring process of iPhone, iPad and iPod Touch on Windows. Also Redsn0w 0.9.15b3 fixes 14 error during stitching files. More than that, the new Redsn0w allows to save SHSH blobs of iPad Mini and iPad 4.
According to iPhone Dev team RedSn0w 0.9.15b3 fixes 2601 error on Windows using the Restore button in iTunes. The program also solves the problem with error 14. If you have unlocked baseband via Gevey or any other tool, don't use stitching option,  just use the Restore option in RedSn0w.
As I said, happy owners of iPad mini and iPad 4 can use RedSn0w 0.9.15b3 to save 6.0 SHSH blobs in Cydia. To do this, connect a new device to your computer, and then use the Extras-> SHSH Blobs-> New and select iOS 6 firmware downloaded on your computer.

Download Redsn0w 0.9.15b3 Using Direct Links
Download redsn0w 0.9.15b3 for OS X (use Ctrl-Click->Open if on Mountain Lion for now)
Download redsn0w 0.9.15b3 for Windows (run in Adminstrator Mode)
As with  previous Redsn0w 0.9.15b2 you can perform iOS 6.0.1 iPhone 3GS untethered jailbreak using new tool. Also today iPhone Dev Team prepare to release new Ultrasn0w but only for iOS 6. New Ultrasn0w will support baseband which is in iOS 5.x. device. So stay tuned with us and you will be the first who will be able to use Ultrasn0w 6.0 to unlock iPhone 3GS and iPhone 4.