Enter DFU Mode on iPhone, iPad, iPod Touch [How To]
DFU mode or Device Firmware Upgrade mode is a state that allows to restore any device from almost any condition. Users of iPhone, iPad and iPod Touch enter DFU mode mostly for firmware upgrade or change. In that state device can 'talk' to iTunes but doesn't boot iOS or boot loader (that's actually real difference between DFU and recovery mode). From DFU mode you can downgrade the existing firmware on your iDevice (downgrade iOS 5.1 to 5.0.1 or iOS 5.0 for instance), or put a custom firmware to your device. That operation can be performed for further jailbreaking or unlocking of your device.

How to enter DFU Mode on iPhone, iPad, iPod Touch:
Update: You can enter DFU even if your Home or Power buttons are broken. How? Just use DFU IPSW in latest Redsn0w.
Step One: Connect your device to PC or Mac using USB cable.
Step Two: Turn off your device. To do that press Power button on the top right side of the device for about 5 seconds and then swipe to power off slider.
Step Three: Press Power button for three seconds.
Step Four: While still holding Power button press Home button.
Step Five: Hold both Home and Power button for 10 seconds.
Step Six: Release the Power button and hold Home for 10 more seconds.
Step Seven: Release Home button.
Congratulations! You have successfully entered the DFU mode.
Once you've entered the DFU mode on your iPhone, iPad or iPod Touch you might be interested in instructions on how to exit that mode.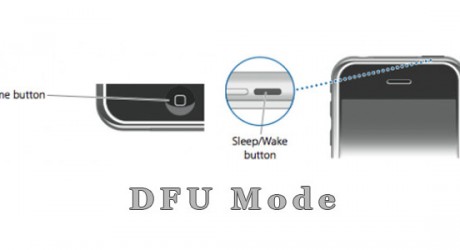 How to exit DFU mode on iPhone, iPad or iPod Touch:
The simplest method to do that is to hold both Home and Power button for about 5 to 10 seconds while connected to iTunes. You will recognize the moment when you have to release Home and Power buttons for sure.
Once you've learned how to enter DFU mode you might be interested in following categories on our site:
If you think that this article is useful, feel free to share it with friends by clicking social buttons below. And don't forget about the comment section below.