How to Use DFU IPSW to Enter DFU Mode Automatically in Redsn0w 0.9.14b2
Developers from iPhone Dev team made jailbreak to be closer to iPhone and iPad owners. You can use DFU IPSW option in Redsn0w 0.9.14b2 if you can't enter DFU mode in some reasons.
The most common reason is that there is no way to fix Home button or Power button if they are damaged. That's why you really can't enter DFU. These buttons are needed to make operations with them to enter this mode. However there have been so solution for this till today. Here is a guide that helps you to jailbreak or downgrade 06.15.00 baseband without needing to press these buttons.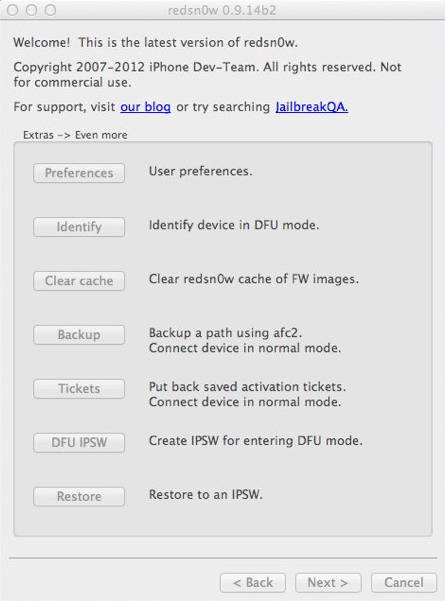 New Redsn0w 0.9.14b2 was developed not only for iPad baseband downgrade or jailbreak. It also come to fix that problem. Now you can use DFU IPSW feature to make the both process to be easier.
This method is an old one (3 years) but still working today. It creates custom IPSW which you have to use during complete iPhone restore as usual but with automatically entering into DFU mode. Follow steps below to do that.
How to Enter DFU Mode Using DFU IPSW Method
Note: Backup all your data because it would be deleted during restoring process.
Step 1. You need to download iOS 5.1.1 firmware (only this firmware is working with this feature without any hacks) and download Redsn0w 0.9.14b2. Use links below if needed:
Step 2. Now run Redsn0w tool after extracting it. If you are the Windows user run Redsn0w as Administrator.
Step 3. Go to Extras => Even More => DFU IPSW to use it.
Step 4. Read the information in the pops up Window and click OK.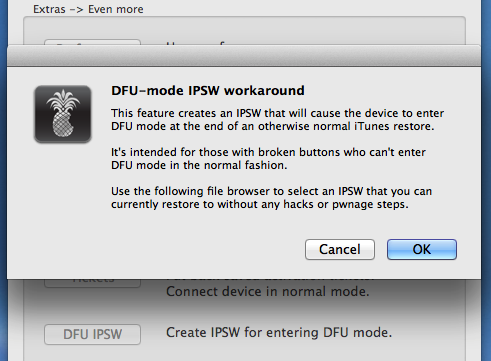 Step 5. Now select your downloaded iOS 5.1.1 firmware in the Step 1 to create "ENTER_DFU_" version of the IPSW.
Step 6. Now connect your iPhone (iPad, iPod Touch) to the computer and open iTunes.
Step 7. Select your device in the left sidebar of iTunes' Window and holding Shift on Windows or Option (Alt) on Mac click Restore.
Step 8. Select ENTER_DFU_… firmware which you have built using DFU IPSW function  and click OK. Wait to the end of the process.
Note: Don't worry if your device's display would be black, it is normal. It means that your gadget entered this mode.
Now your device needs to be in DFU mode which means that you can jailbreak iPhone, iPad or iPod Touch or downgrade iPad baseband on iPhone 3GS or 3G.
That's it. This is how to use DFU IPSW in Redsn0w to enter DFU even if the Home and/or Power buttons are broken. Fell free to use comment form below to ask your questions and I would be glad to help you.