Apple Released iOS 5.1.1 With New Features and Fixes | Download
After had been enjoying iOS 5.1 for two months, today was iOS 5.1.1 released by Apple company. The new iOS brings some improvements and bug fixes and I will talk about that news here.
So as you could notice that there is a new iOS 5.1.1 that was released for iDevices. If you want to download iOS 5.1.1 on your device then first you have to be acquainted with its features.

iOS 5.1.1 Features and Fixes
Developments for HDR photos taken while using Lock Screen shortcut.
Improved re-ability for syncing Safari bookmarks and Reading list.
Fix for bugs that could avoid iPad 3 from changing between 2G and 3G networks.
Fixes for bugs that impacted AirPlay video playback.
Fixes the problem where an "Unable Purchase" alert could be viewable after a successful buy.
iOS 5.1.1 is suitable for such Apple gadgets as iPhone 3GS, iPhone 4, iPhone 4S, iPad, iPad 2, iPod 3G, iPod 4G. So you can download iOS 5.1.1 from the direct links below.
Download iOS 5.1.1
Update: Here is the download link of iOS 5.1.1 (iPhone4,1_5.1.1_9B206_Restore.ipsw) which you can use for iOS 5.1.1 downgrade on iPhone 4s (for more info go here).
You can also try to download it via iTunes or over-the-air update. If you don't know how to download iOS 5.1.1 using over-the-air then simply open Settings => General => Software Update.
The fresh information has become from MuscleNerd on his twitter account. This info was send to the jailbreakers. Take a look at his tweets: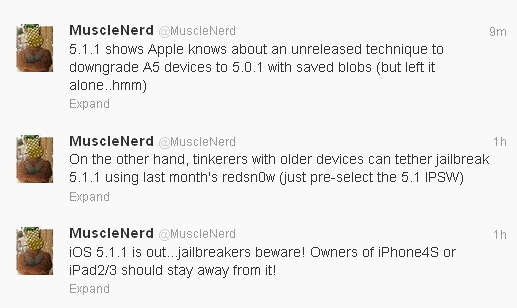 So if you plan to jailbreak your gadget you can use last month's RedSn0w only you have to do is pre-select the 5.1 IPSW. And the last thing you have to know is that you can't jailbreak iOS 5.1.1 on iPad 3, iPad 2 and iPhone 4S yet.
Note: Do not update iPhone 4S, iPad 2 and iPad 3 to iOS 5.1.1 before release of untethered jailbreak for it.
It is all for now so stay tuned with us and you will find out more about iOS 5.1.1 and jailbreak for it. Also leave you thought about this updated version or even experience of using it in the comment section below. But if in some case you will need to downgrade iOS 5.1.1 to iOS 5.0.1 (5.0) for untethered jailbreak then go here for that.