How to Downgrade 06.15.00 to 05.13.04 on iPhone 3GS/G Using Redsn0w 0.9.14b2
I have good news for all who stuck on iPad baseband. Now you can downgrade 06.15.00 to 05.13.04 on iPhone3GS or 3G applying most recent Redsn0w 0.9.14b2 or Redsn0w 0.9.15b3 for iOS 6.x devices.
This good news came from MuscleNerd yesterday about success in developing downgrading solution for 06.15.00 baseband that works. The problem was that not every iPhone 3GS user could perform baseband downgrade successfully. The reason was in the different types of NOR chip in iPhone.
But Redsn0w 0.9.14b2 is working on 3 different types of NOR chip. And today I have complete tutorial guide on how to downgrade 06.15.00 to 05.13.04 baseband on 3GS (3G) iPhone models using Mac or Windows. Just follow steps below carefully and you will be fine.
If your device is factory unlocked and you have No Service on iPhone this guide will help you to fix it. Also you can follow this link to find out more about No Service.
Use Redsn0w 0.9.14b2 to Downgrade 06.15.00 to 05.13.04
Warning: Do not use this method if your iPhone 3GS was released in early 2011 or later because it can damage your iPhone baseband for ever.
Step 1. First you need to download Redsn0w for Windows or Mac:
Download Redsn0w 0.9.14b2
Update: you can perform the same steps with the latest Redsn0w 0.9.15b3 at this moment but you will also need iOS 6.0 firmware if you are running iOS 6.0 and later.
Step 2. Extract it to any directory on your computer and launch it. If you are Windows user do it as Administrator.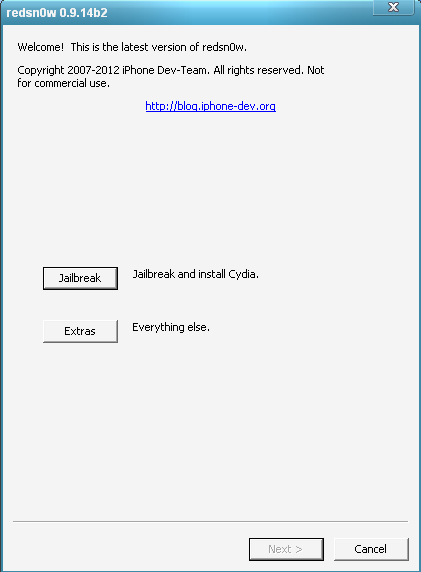 Step 3. After Redsn0w 0.9.14b2 is up and running connect your iPhone to the computer in normal mode and click Jailbreak.
Note: if you are using iOS 6 and later you will need to download Reds0w 0.915b3. Then repeat Steps1 and 2, go to Extras – Select IPSW – point to iOS 6.0 firmware (download it here on your computer) and start with Step 3.
Step 4. Now this tool is identifying your iPhone's model and baseband version and preparing your iPhone 3GS or 3G for 06.15.00 to 05.13.04 downgrade.
Step 5. Now you should see in the Redsn0w window the list of different options. So uncheck Install Cydia aand make sure that you picked Downgrade from iPad baseband and then click Next.
Step 6. Now Redsn0w will ask you to enter DFU mode. So first you need to make a controlled Slide to power off move and click Next. Note: If your have no problem with that just click Next and follow onscreen instructions. But if you need help use this link to Enter DFU without problems.
Step 7. Now step back and relax. Let Redsn0w 0.9.14b2 automatically downgrade 06.15.00 to 05.13.04 on your iPhone 3GS or iPhone 3G.
This process can take some time that's why DON'T use the computer, disconnect iPhone or interrupt the process.
Also if you have some issues with downgrade 06.15.00 to 05.13.04 you can go to iPhone Dev Team Blog and provide them with your Redsn0w log in the comment section.
To perform it go to Extract => Even More => Backup and save the copy of:
 /var/mobile/Media/redsn0w_logs
Then just extract log text file and paste it into the comments.
Now you only need to reinstall Ultrasn0w to perform iPhone unlock. Go here for tutorial guide on how to do that.
Also Redsn0w 0.9.14b2 brings new option – DFU IPSW and here is how to use it. This feature is good for those who can't enter DFU mode because of damaged Home or Power button. This feature allows you to enter DFU automatically. So you can downgrade and jailbreak your device if you have this problem. More info will come soon.
And that's it. Now you know how to downgrade 06.15.00 to 05.13.04 on iPhone 3GS baseband so use share buttons below to share this essential info for those who still can't do that.