If Evasi0n Jailbreak Is Not Working: How to Fix Guide
The happiness related to the new iOS 6.x evasi0n jailbreak release quickly faded when users who tried to jailbreak their devices began to deal with various issues and bugs. What should you do in the evasi0n jailbreak not working situation? How can you fix problems? We will describe all the common issues in this article with how-to-fix guide to each issue.
In case you haven't tried to jailbreak iOS 6.1 with evasi0n yet, don't worry too much as the jailbreak itself is pretty smooth. Sometimes you might just bump into a problem which can be fixed thanks to our instructions.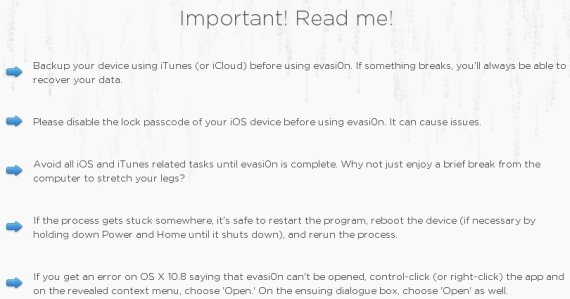 Patching Kernel and How to Fix It
Some users who tried to jailbreak iOS 6.1 device using evasi0n untethered jailbreak tool reported such problem as "Patching Kernel." Some of them had to wait for about 18 minutes being stuck on this status.
It does take very long for jailbreak, and if you are forced to wait even longer reset your gadget. In order to fix the problem, click on the Power and Home buttons at once and wait till the gadget reboots.
Finding Offsets Evasi0n Issue
This is another evasi0n jailbreak not working situation you might get across during jailbreak. Some users assure they had to wait for about 10 minutes till their device got through "Finding Offsets" status. If you see no further progress, simply press the Home and Power buttons and reboot your device.
Evasi0n Jailbreak Windows Problems
Some people faced such Windows issue as "You must run this app as administrator." If you see this error when you download evasi0n tool and jailbreak your iOS 6 / 6.1 device with evasi0n tool, you simply need to right click on the program and choose "Run as administrator" option.
If such feature is not available to you, decompress evasi0n zip file to a local drive [for example, create a new folder on C drive] and add evasi0n program into that folder. Then press Start – Run. Type CMD and DOS window will be launched and you will see on-screen guide how to jailbreak your device.
Evasi0n Cydia Issues
Since too many users are trying to jailbreak their iOS devices using iOS 6.x evasi0n jailbreak, Cydia is under heavy load. A lot of issues are reported by iPhone, iPad and iPod touch owners who cannot log into their account or have troubles with their "My Accounts" page. According to Saurik, developers will take care of this problem, and so far you are able to access Telesphoreo repo. If it doesn't work for you, try to change DNS to Google's 8.8.8.8 servers.
Evasi0n Jailbreak Button Disabled
In case you see that the evasi0n utility jailbreak button is greyed out [it is disabled and you cannot click on it] when you have connected your gadget to the PC or Mac, you need to recheck that password doesn't protect iTunes backup. Disable password protected backups for the jailbreak process. You can always enable this feature later on.
Problems with Weather App
iPad users reported another evasi0n jailbreak not working issue with Weather app. They noticed an extra application on the tablet computer after they have jailbroken it. According to MuscleNerd, you should not worry about this. Other people said that Weather app stopped working properly after the jailbreak. There is no solution for this bug yet, and Evad3rs team members will most likely solve it soon.
Common Evasi0n Advice
If you don't want to get across evasi0n jailbreak not working problems, you should perform the following steps. Do not launch TinyUmbrella for iOS 6.1 , iTunes, Phone Configuration Utility and Xcode during the jailbreak process.
In case you still get stuck and don't move forward, you should restart Evasi0n program and hard reboot your gadget. If this doesn't help, simply do iOS 6.1 restore and try to jailbreak your gadget again.