Jailbreak iOS 6.1 Untethered with Evasi0n Tool
Finally you can perform iOS 6.1 untethered jailbreak using just release evasi0n tool. Here is a tutorial guide that will help you to perform it on such all iDevices running on iOS 6 and above.
After the evasi0n jailbreak progress increased to 100% many iUsers started to jailbreak iOS 6.1 on Mac, Windows and Linux.
Before we will start look at the list of devices which you can use for jailbreak.
Evasi0n Supported Devices
iPhone 5
iPhone 4S
iPhone 4
iPhone 3Gs
iPad 4
iPad Mini
iPad 3
iPad 2
iPod touch 5th gen
iPod touch 4th gen
Apple TV 2
If you see your gadget above we can start but first read, please requirements.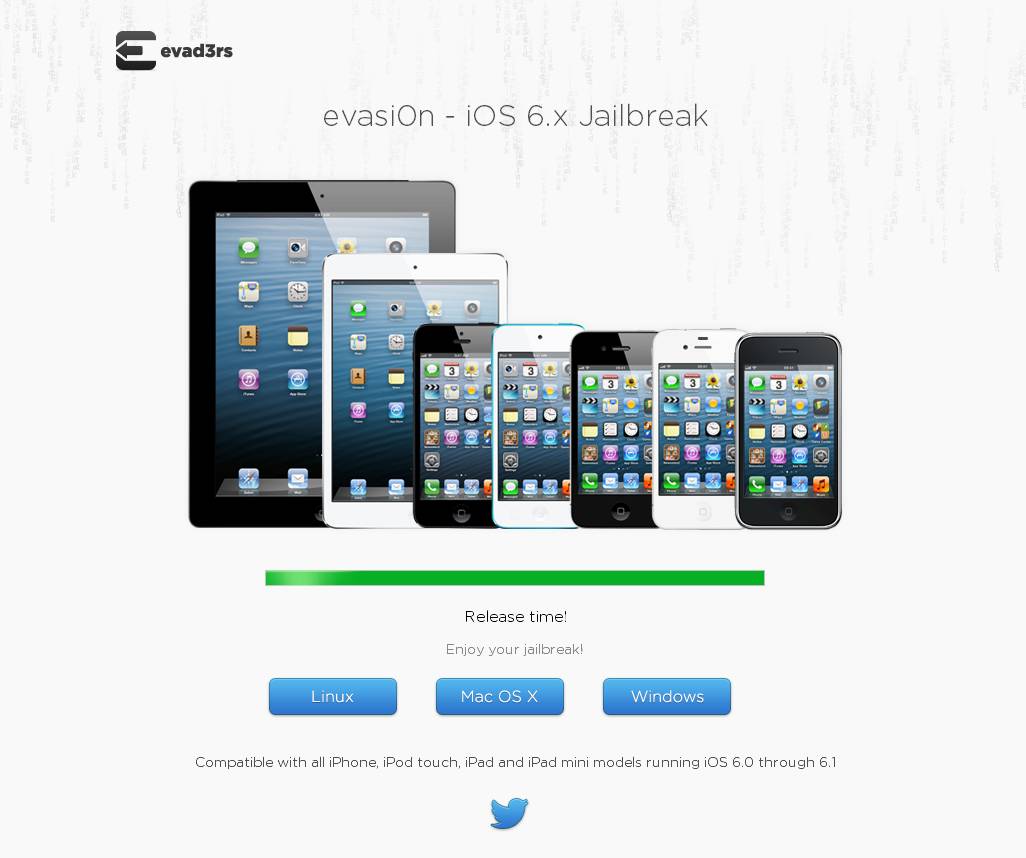 Requirements
An iPhone, iPad or iPod running iOS 6.0 and above. However the  evad3rs advice to update the device to iSo 6.1 using iTunes clean restore in iTunes. Don't use over-the-air update. Download iOS 6.1 and update device now to avoid errors.
A computer, running Windows (XP minimum), Mac OS X (10.5 minimum) or Linux (x86 / x86_64).
A USB cable or Lightning to connect the device to the computer.
Disable passcode if you got some on your iPhone or other iDevice.
There is advice to save iOS 6.1 SHSH blobs before evasion jailbreak. Also evad3rs team advised to make a backup in iTunes or iCloud, to disable the lock passcode of your iOS device before using evasi0n. And do not interrupt the process.

How To Jailbreak iOS 6.1 / 6.0 Using Evasi0n
Step 1. Download evasi0n tool for Windows, Mac or Linux.
Step 2.  Connect your device for your Mac or PC through the 30-pin or Lightning cable. Make certain the connected hardware is identified by the jailbreak tool.
Step 3.  Now open file you have just downloaded in step 1 and and select evasi0n file (unzip if you on Windows). Mac users may have problems with opening. If you will got some "control-click the app and on the revealed context menu, choose 'Open.' On the ensuing dialogue box, choose 'Open' as well".
Step 4.  Now wait till the end of the process and don't interrupt it.
Step 5. The program should start automatically or run it from the folder you extracted files. Click Jailbreak and relax because Evasi0n will do its work. If the process will stop, restart evasi0n and reboot device and start again.
Step 7. You will see "Done" after the finish of the process and Cydia on your iPhone home screen.
Now just run Cydia, select from User, Developer or Hacker and wait till Cydia updates.
How to Unlock iPhone After Evasi0n Jailbreak
If you found out that your previous unlock doesn't work you can always find out how to unlock it here. Don't forget that you can always use factory unlock on your iphone and enjoy untethered jailbreak at the same time. Even if you will loose jailbreak after future iOS upgrade don't worry becasue your iphone will still be unlocked.
So, you this service to Unlock AT&T iPhone for only $9.99 or if your iPhone is locked to international carrier then go and factory unlock iPhone locked to Vodafone, Bell, Virgin, orange, Softbank and others.
That's it. Now you can enjoy evasi0n iOS 6.1 jailbreak untethered on your device using this guide. Also you can use comment section below if you will have some problems with the process.