How to Factory Unlock iPhone 5 AT&T And Use Any iOS and Sim Card
The easiest way to unlock iPhone 5 AT&T is to use legit IMEI service because this method is 100% working and you will get factory unlocked AT&T iPhone 5 which means that you can update it in iTunes to any new iOS firmware and still be unlocked forever. Also you will be able to use any SIM card around the world.
Last month I showed you all possible unlocking methods for iPhone 5 and reading that post you would see that IMEI service was the only way to free your device from AT&T or any other carrier.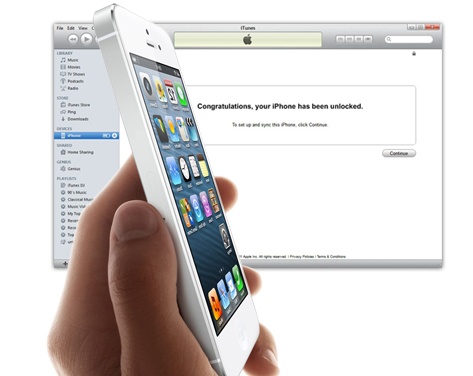 Two months ago Apple launched iPhone 5 and two iOS version changed from that time on it – iOS 6 and iOS 6.0.1. So, let's see how iPhone 5 baseband has changed from that time:
iOS 6 – 1.00.16
iOS 6.0.1 – 1.01.00
iOS 6.1.3 – 3.04.25
iOS 7 – 5.00.01
Here you will factory unlock iPhone 5 AT&T 1.00.16 / 1.01.00. If you updated your device to beta versions, don't worry because you will unlock it as well.
There are many iPhone 5 available that locked to such networks as AT&T, Verizon, T-Mobile and many other operators from around the world. Sure you can buy factory unlocked iPhone 5 but first look at the prices. I offer you to factory unlock for already locked to AT&T iPhone 5 for the cheapest price you ever find in the net.
If you are looking for free solution for your iPhone 6th generation in the end you will fail because there are no hardware or software methods to unlock it. Forget about Gevey SIM and Ultrasn0w because there is no versions for iPhone 5.
Also if you have AT&T contract you can try to unlock iPhone 5 for free via iTunes restore but I can't guaranty successful unlock. It all depends on you and AT&T representative.
But there is a better way to free your iPhone 5 from AT&T carrier and use any other carrier you wish. You can use legit and cheapest AT&T unlocking service that offers factory unlock for any iPhone model including iPhone 5. You can choose from different unlocking packages depending on delivering time. Also you can use IMEI checker to check if your iPhone 5 is really locked to AT&T network.
So, don't hasitate and order quickest unlocking solution for AT&T iPhone 5 right now!