Free iPhone 5 Battery Replacement Possible Till 2016
You can replace battery in iPhone 5 till 2016. Apple has decided to extend its program which was supposed to end this March. We have earlier told you how to replace iPhone 5 battery yourself, but this program has nothing to do with DIY instructions because it is an official method of changing the important detail of your gadget at no charge.
The iPhone 5 battery replacement was announced by Apple in August 2014. The company found out that a number of these model units that were sold in September 2012 – January 2013 came with defective batteries [you can check out iPhone 5 battery performace tests] that have to be changed.
The Cupertino-based giant created a deadline which allowed customers who got the faulty battery a chance to replace it with Apple's help. At first, the deadline stated March of 2015, but the recent update now reflects January of 2016.

Battery iPhone 5 Replacement Terms and Eligibility
At first, the 'fruit' company wanted to allow affected consumers replacing their battery for free within the 2 years after the retail sale, but then the program timelime has been extended. It is interesting that all the changes were applied silently. Apple has only upgraded the page that shows the new date until it is eager to offer free iPhone 5 battery replacement.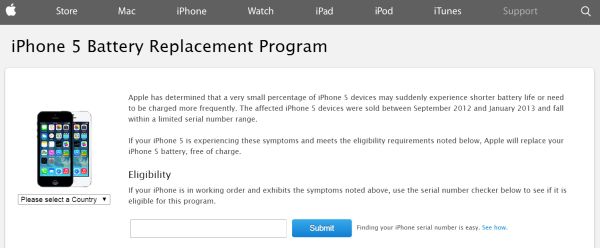 Users who wish the check the information whether they are able to change [repair] their battery for free or not using Apple program can enter their serial number on the support page and click on 'Sumbit' to find out if their battery is faulty or not.