i0n1c performed iOS 5.1.1 Jailbreak
iOS 5.1.1 Jailbreak was made by i0n1c just a half an hour ago after the update was released. That's some real skills, isn't it? That's sure a result of his jailbreaking experience and ability to jailbreak iOS 5.1 but he still did it very fast. As you can read in our previous post iOS 5.1.1 was released two months after iOS 5.1 release. It brought some slight fixes and new features as well as security improvements. Users that will update to iOS 5.1.1 will be able to take HDR photos by using lock screen photo shortcut, sync Safari bookmarks with Reading list, prevent iPad 3 from automatic accidental change between 2G and 3G networks, AirPlay video playback bug fixes and some others.
As you can see no major productivity improvements were introduced. What is more important is that Apple fixed URL spoofing vulnerability in Safari. Malicious sites had possibility to put their URL instead of the address user trusts and grab some sensitive information like passwords, logins, even credit card numbers and so on.
Thanking to i0n1c users will get iOS 5.1.1 jailbreak and will be able to run Cydia on most recent iOS. But to be honest German hacker isn't in a rush with iOS 5.1.1 jailbreak public release. That's what he wrote in his Twitter earlier:

From one side this is just great news because it proofs that iPad 3 can be jailbroken on iOS 5.1.1 but from the other side we shouldn't hope that he will release the solution any time soon. i0n1c is known for his position about jailbreaking. He recently was discussing his position with other hackers via Twitter and the main points were: is jailbreaking piracy or not, should they earn money from it or not and should they proceed with it at all. That's some of i0n1c's ironic tweets on the subject: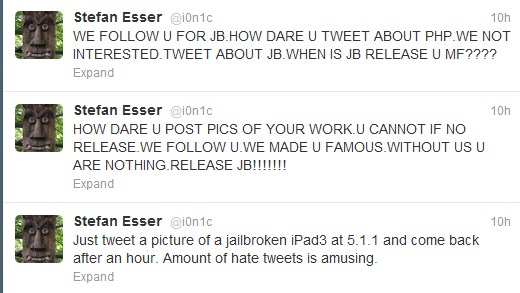 Should he release iOS 5.1.1 jailbreak for A5 devices soon or ever? That's only personal decision. As mentioned guys in comments on idownloadblog it's like one worked hard, made his millions and bought a Ferrari. Should he now let everyone drive his new car or just post photos on his blog and in social networks? What do you think of it? What would you do if you were i0n1c? Let us know by commenting this post below or reply to us on Facebook and Twitter.
Update: If there is need to downgrade iOS 5.1.1 to iOS 5.0.1 or iOS 5.0 you can use this link and perform that.