iOS 8.3 Downgrade to 8.2 Guide for iPhone and iPad Users
You know that Apple eventually stops signing the previous version of its mobile firmware soon after it releases the update. While the company still signs iOS 8.2 you can follow these iOS 8.3 downgrade instructions and get back to the previous release. Sadly, both firmwares cannot be jailbroken.
iOS 8.3 downgrade to 8.2 might be interested to users who hurried to update as soon as Apple released its new system for iPhone and iPad. We shared the direct links for iOS 8.3 download and how to install 8.3 guide, and now we'll post a new instruction on how to downgrade 8.3 in case you don't like it.
How to Downgrade iOS 8.3 to 8.2
Step 1. Use iTunes / iCloud to backup your smartphone or tablet. Having a copy of all your personal files is must-do because it will save your information in case anything goes the wrong way. It's up to you which program to use for this. Both iCloud and iTunes can do the job.
Step 2. Use this site https://ipsw.me/8.2 to check if Apple is still signing iOS 8.2. If you see the green checkmark, everything is ok and you can proceed.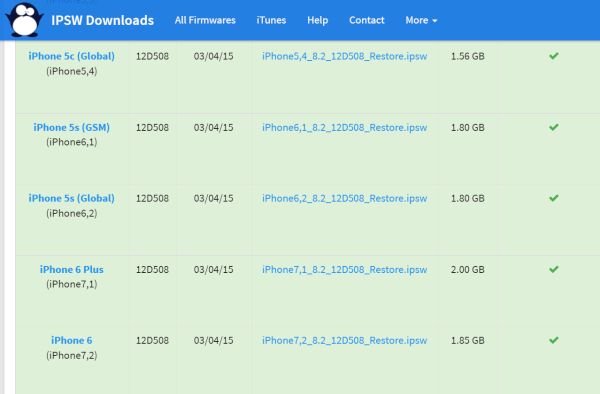 Step 3. You have to download iOS 8.2 ipsw file using direct links. Choose your device model and version and save your ipsw on your computer.
Step 4. Through the USB, connect your iPhone or iPad to your PC / Mac.
Step 5. Open iTunes and wait till it finds your gadget. Choose it from the top menu.
Step 6. Click and hold Shift [if you are using Windows PC] or Alt/Option [if you are on Mac] and press on Check for Update at the same time.
Step 7. Point to 8.2 ipsw you have downloaded in Step 3.
Step 8. Wait till iTunes updates / restores you to this previous version of mobile operating system for iDevices.
Remember that the new OS comes with a lot of fixes and new features. You can find the full list of all iOS 8.3 release notes before you decide that you really want to downgrade or don't want to do this any more.
Remember that as soon as Apple stops signing 8.2 it will become impossible to downgrade. There is still time for this!