iOS 9.3 Beta 3 Update Seeded by Apple to iPhone, iPad
Some iPhone and iPad owners can test the next iOS 9 firmware version. Apple is believed to unveil this public iPhone and iPad mobile firmware sometime this year. This operating system should fix some previous bugs with iOS 9 [along with iPhone 6 battery percentage stuck issue]. You can also get iOS 9.3 beta 3 update if you are a developer.
Apple presents its new betas to registered devs and public beta testers who register in the special Apple Public Beta Program which is free to do. You can download iOS 9.3 beta 3 through OTA-update or via direct ipsw links, but only if you like to take a risk or are a professional developer.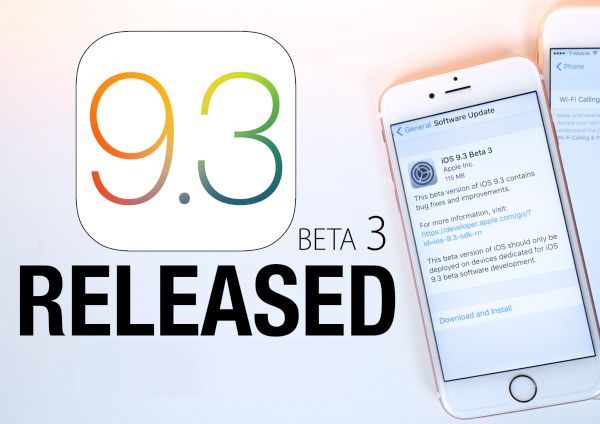 Should ordinary users hurry to install iOS 9.3 beta or not? Experts and devs don't recommend this for a number of reasons. For example, all betas have a lot of errors, problems and bugs. Besides, they are not supported by other iOS 9 applications and games. The beta firmwares are only intended for testing and this is exactly why Apple releases the updates.
The first public beta of iOS 9.3 as presented in the end of 2015. The Cupertino-based giant unveiled a couple of versions for developers and public beta testers. This OS comes with some interesting features. Apple brings Night Shift mode to iDevices and allows protecting different tools with Touch ID / password. The 'fruit' company makes iOS 9.3 more educational as it allows multiple Apple ID being logged in within the same Classroom app.
Are you looking for the next iOS 9.3? It might not be jailbreakable at once however hackers assure that it is possible to untether iOS 9.3 and earlier iOS 9.2 and even 9.1.