Jailbreak iPhone 3GS iOS 5.1.1 Using Redsn0w (Mac)
This is the instruction for iPhone 3GS iOS 5.1.1 jailbreak with redsn0w on Mac. The process will cause the baseband upgrade so you won't be able to unlock your device with software tools. If you want to upgrade to iOS 5.1.1 without baseband upgrade – then use this tutorial. The jailbreak is also semi-tethered for all jailbreakable devices except for old-bootrom iPhone 3GS. That means that you'll need to connect your iPhone to the computer every time you reboot or the battery goes down. If you are on lower firmware and want to jailbreak without updating then go here for the instructions. In case if your device is running iOS 5.1 you can also use the guide below.

How To Jailbreak iPhone 3GS iOS 5.1.1 Using Redsn0w (Mac):
Before you start please note that This jailbreak doesn't work on:
iPhone 4S, iPad 2, iPad 3. They can be downgraded to iOS 5.0.1 (guide here)
iPhone 3GS and iPhone 4 can be downgraded if SHSH blobs are saved
The tutorial also works with iPhone 4 and iPad
Step One: Download the latest version of redsn0w for Mac (link).
Step Two: Backup your device through iTunes ar in any other comfortable way.
Step Three: Upgrade to iOS 5.1.1 through iTunes.
Step Four: Download the iOS 5.1 (not 5.1) firmware (direct links: iPhone 3GS, iPhone 4, iPad)
Step Five: Run redsn0w.
Step Six: Click on Extras and then on Select IPSW.
Step Seven: Select just downloaded IPSW 5.1 file.
Step Eight: Select your bootrom version. To find out which bootrom are you on – check this article.
Step Nine: Redsn0w will now proceed with creating custom firmware.
Step Ten: In the next window leave all checkboxes as it is (only install Cydia should be checked). Hit next.
Step Eleven: Go to DFU mode. If you aren't sure how to do that – use the tutorial.
Step Twelve: As soon as redsn0w will detect your iPhone in DFU mode it will start exploiting and then reboot the device.
Step Thirteen: After it boots you'll see the White Cydia icon that will constantly crash. That's because the phone is in tethered mode right now.
Step Fourteen: Go back to redsn0w->Extras and select Just boot. Enter the DFU again and wait until the iGadget boots.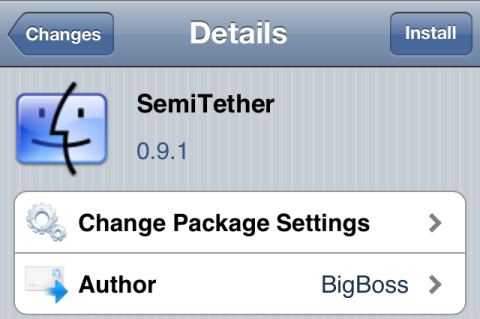 You can use semi-tethered mode for your iPhone. This means that you'll be able to boot your device without connecting to PC but some of the apps and functions won't work until you connect and boot tethered with help of redsn0w. You will be able to make calls and send messages but there's no way to use Cydia and some other apps. To use semi-tether follow this tutorial (the steps are on the lower part of the post).
Hope you've managed to jailbreak iPhone 3GS on iOS 5.1.1 using Redsn0w on Mac with this tutorial. If it is so – please comment and share the link among your friends. Don't forget to subscribe to get the latest tutorial and news.