Jailbreak iPhone on iOS 5.1(5.0.1, 5.0) Using RedSn0w 0.9.10b8b | Guide
You may know that iPhone Dev-Team has recently released updated RedSn0w 0.9.10b8b that brings minor fixes. And now I want to show you how to jailbreak iPhone 4S, 4, 3GS running iOS 5.1 and lower.
I have to tell you that his jailbreak isn't untethered for iOS 5.1 and iOS 5. You can only jailbreak iOS 5.0.1 untethered, other iOS firmware versions can be jailbroken semi-tethered. Also if your use iPhone 3GS on the old bootrom then you can perform untethered jailbreak on all iOS firmware.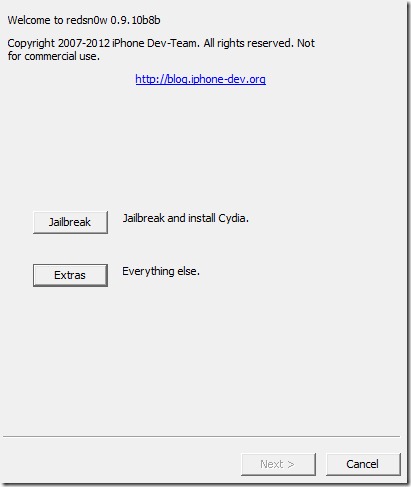 Semi-tethered jailbreak means that when your iPhone loses power then you will need to connect it to your computer and re-run updated RedSn0w to use all the options on your iPhone.
iOS firmware and Jailbreak types
iOS 5.1 for iPhone 4, 3GS – Semi-tethered
iOS 5.0.1 on iPhone 4S – Untethered
iOS 5.0 on iPhone 4, 3GS – Semi-tethered
iPhone 3GS on old bootrom running any iOS firmware – Untethered
Jailbreak iOS 5.1, 5.0.1, 5.0 on iPhone Using RedSn0w 0.9.10b8b
Step 1. Download RedSnow 0.9.10b8b
Update: Also there is latest RedSn0w 0.9.11b4 that brings support for iOS 5.1.1 jailbreak. For more use this link and download updated version of RedSn0w.
Step 2. After you download RedSn0w, open it by double clicking on on Mac. On Windows just extract the app by right clicking on redsn0w zip file: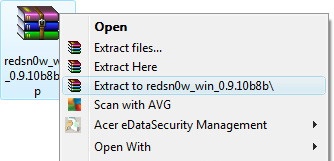 and after extracting select redsn0w.exe file and Run RedSn0w as administrator (also right click):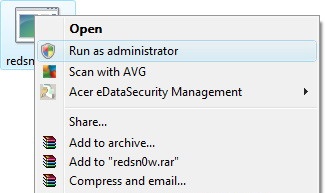 Step 3. Click Jailbreak button.
Step 4. Put your iPhone into the DFU mode. To see how to do that go here (if you need).
Step 5. After success entering the DFU mode RedSn0w will prepare your iPhone for the jailbreak.
Step 6. When preparing is finished then choose the option you need. Install Cydia must be selected and click Next button.
Step 7. Now RedSn0w is jailbreaking your gadget so don't use your computer during that time.
Step 8. As soon as your iPhone will be jailbroken it will boot up right into a functional state in case you are performing Untethered jailbreak on the iPhone or it'll boot up with the Apple logo for those who have a Semi-untethered jailbreak.
And that's it for untethered jailbreak so if you are performing semi-untethered jailbreak then follow steps bellow.
Step 9. As I wrote before if you jailbreak your iPhone semi-untethered you will have to plug it to your computer each time your iPhone loses power to restore all features. As you've not yet used the Semi-Untethered patch though, your iPhone is theoretically jailbroken tethered, which means it won't even restart without first re-running RedSn0w. As a result to restart your iPhone into a functional and jailbroken state you will have to open RedSn0w again, click the Extras then click the Just boot button and you'll only need to put your iPhone into DFU mode again.
Step 10. Now when your iPhone is functional you can apply semi-untethered patch. Go to Cydia => Manage => Sources => Edit => Add and write down this repository:
http://thebigboss.org/semitether
Search for SemiTether Cydia package and install it.
Step 11. Reboot your iPhone.
That is all that you need to do to jailbreak your iPhone with updated RedSn0w 0.9.10b8b semi-untethered. I hope it was not complicated for you but if there are some questions then you can ask me by putting your question in the comment section.