Use Absinthe 2.0.2 to Jailbreak iOS 5.1.1 Untethered on iPad 3 | Video
Today I have great chance to show you how to jailbreak iOS 5.1.1 on iPad 3 using Absinthe 2.0.2. Here below you can follow my easy guide and also you can watch the video I shot for you.
A few day ago iPhone Dev Team released Absinthe 2.0.2 for iPhone 4 GSM on Build 9B208 and also to fix errors in Absinthe 2.0 (2.0.1) that could appear during jailbreaking process.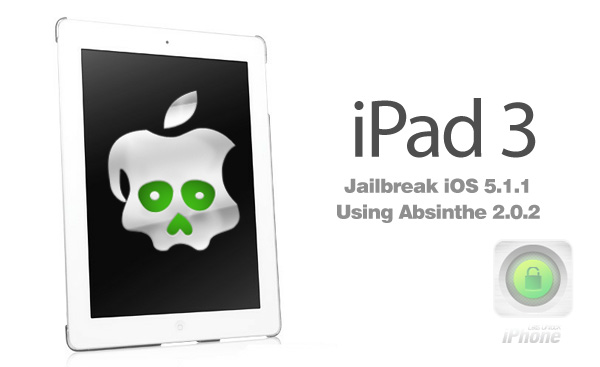 After Absinthe 2.0.2 update I thought to myself that it would be great to test it on my iPad 3. So I updated it to iOS 5.1.1 and began jailbreak.
Update: If you are iPad 2.4 user you can now jailbreak it to with Absinthe 2.0.4.
Untethered jailbreak is very important action for iGadgtet. First, you don't need to connect your device to Mac or PC to boot it, you can rebooted it every time you want. But the main reason to jailbreak iOS 5.1.1 on iPad 3 is Cydia. Cydia gives us possibility to use tons of Cydia apps and tweaks that can bring a lot of advantages in using iPhone, iPad or iPod Touch. So let's jailbreak iOS 5.1.1 on iPad 3 using Absinthe 2.0.2.
Jailbreak iOS 5.1.1 on iPad 3 Using Absinthe 2.0.2
Step 1. Backup your iPad 3 using iTune or iCloud. If you want to backup your Cydia apps and tweaks then use this guide how to do it.
Step 2. Download Absinthe 2.0.2 and launch absinthe-win.exe to extract files (in my case -win.exe because I did this on Windows)
Step 3. After extracting files you will see the folder named absinthe-win-2.0.2 open it and launch absinthe.exe.
Step 4. After you see Absinthe 2.0.2 window connect your iPad 3 to PC using USB.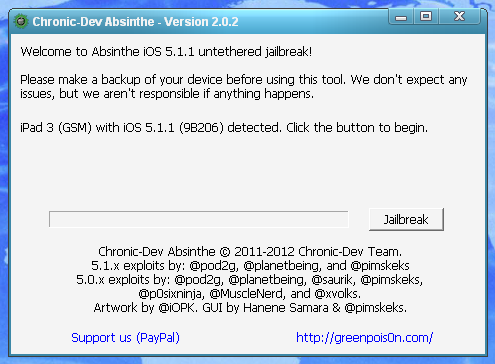 Step 5. When Absinthe detect iPad 3 click Jailbreak.
Step 6. Now stay calm and just wait while Absinthe 2.0.2 jailbreak iOS 5.1.1 on iPad 3
Step 7. After the process iPad 3 must reboot and you will see Cydia icon on the Springboard.
And that's it. Enjoy your jailbroken iOS 5.1.1 on iPad 3 with Absinthe 2.0.2.
Also check the video of that process:
If there were some errors or other problems then go here to fix Absinthe 2.0.2 not working problems. But I hope that you will not encounter with any error and problem. But if it will take place let me know using comment form below and we will try to help you.
Update: Also you check out what Cydia apps and tweaks are compatible with iOS 5.1.1 and enjoy it.