Learn How to Respring Your iPhone Easily and Quickly
This instruction will explain how to respring iPhone very quickly, and you don't even need to jailbreak your smartphone beforehand. There is one useful tweak that allows setting up a respring shortcut on the smartphone's Home Screen. You should add a folder to a folder. Every time when you launch this folder your handset will crash and respring. If you need to fix iPhone Respring loop you can use iFunbox.
If you establish the setup you will learn how to respring iPhone without jailbreak at any moment. Here comes the step-by-step guide that will help you to fulfill this task. Also don't forget that you can unlock iPhone without jailbreak anytime you need.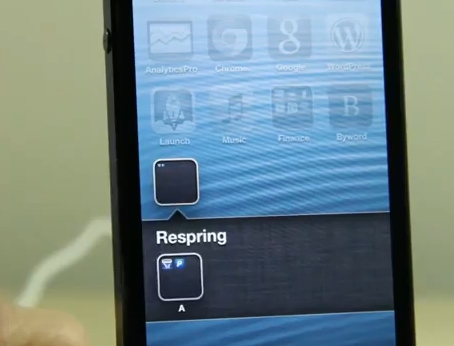 Learn To Respring iPhone Without Jailbreaking
First Step
In order to later repring your iPhone you should create 2 folders. One folder must contain programs or shortcuts that you will never need.
Second Step
Add the folder with programs you will never use on the third page of iPhone's Home Screen. Add the second folder with applications you do care about on the second page of iPhone's Home Screen.
Third Step
Go to page three. Now click the Home button, and at once tap and hold on the folder you added there. You should see how the screen swipes over to page one. It is time to quickly get back to page two where you have placed the second folder with apps you need.
Fourth Step
If you completed all the steps above properly, you will get the wiggle mode to automatically kick in with you having nothing to do. Launch the folder on the page two by tapping it. Now click the Home button. The folder from page three must be now added into the folder on page two.
Fifth Step
Launch the folder on page two. Tap and drag the programs you have in it out of the folder. Just make sure you leave the folder with applications you don't need in this folder.
Sixth Step
When you complete step five you will have to get two folders, one with programs you don't need inside the other one. It is time to enter wiggle mode and change the name of your main folder to "Respring."
Seventh Step
This is how to respring iPhone without jailbreak. Every time you wish to respring, just launch up your "Respring" folder and press on the folder you have left inside of it. Your smartphone will crash and respring back to the Lock Screen.
Eighth Step
Add the shortcut to your folder on your Home Screen for easy access.