How to Lock Apps on iPhone 6 [Jailbreak Tweak]
If you often hand your iPhone to friends and other people you might wish to protect your privacy [here are some of the best iOS 9 jailbreak tweaks from Cydia]. iPhone apps lock jailbreak tweak is available to iOS 9 user who have jailbroken with Pangu program which is the only way to untether modern Apple mobile firmware versions. The tool supports firmwares up to iOS 9.0.2 but it doesn't work on iOS 9.1.
Using the iPhone apps lock option you can simply lock the applications you don't want others to launch and use. It is possible to lock via a quick Activator gesture which is very handy and useful. When the app icon is locked no one but you can access it.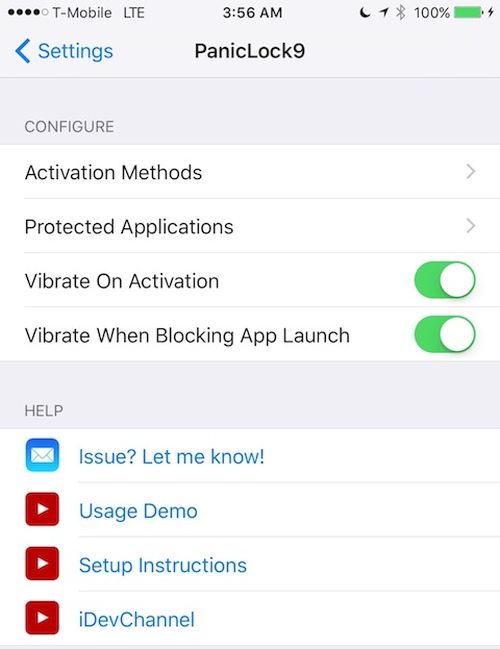 How to Lock Apps on iPhone 6 iOS 9 with Activator Gesture
Step 1. You can get the jailbreak tweak called PanicLock on Cydia [there is a different tweak that adds unlimited Safari tabs on your device]. It is available at the price of $0.99. Download and install the program from the BigBoss repo on your iOS 9 smartphone.
Step 2. You can now go to Settings and select the new pane dedicated to the tweak.
Step 3. Choose the Activator gesture and assign it to the tweak. You will invoke the program via this gesture and disable PanicLock to access your applications.
Step 4. Remember to toggle on all the programs you wish to protect using PanicLock iOS 9 jailbreak tweak which is one of the reasons to jailbreak iOS 9 iPhone.
Step 5. You can enable and disable the tweak as well.
Step 6. It is also possible to turn on or off vibration that appears when you invoke the tweak.
Everything is simple and easy to use. For example, if you choose your handset's physical button as your Activator gesture no one will ever notice what you are doing to lock some applications on your iPhone 6 or other model.