What Does OpenJailbreak Mean and Why this Source Has been Opened by P0sixninja
Grand event  happened last week. Jailbreak community should clap their hands to OpenJailbreak source by p0sixninja. The source that was created for developers to hack iOS devices, store useful codes and exploits and even more.
Only few days ago such unknown team of hackers like UnthreadedJB announced that they could jailbreak iOS 5.1, iOS 6.1.3, 6.1.4 on any iDevice. Some say that p0sixninja was behind it, others that i0n1c and another big part of jailbreakers are sure that this project was made by Geohot. I think  we will find it out soon. But let's talk about the real source from the real hacker.
What OpenJailbreak Source Will Give Us?
There will be the place where every developer can leave his exploits and codes.  It's going to be an open community for jailbreak libraries and utilities, so everyone can use it.
Anyone will have a possibility to use codes and exploits stored there for finding new exploits for iOS hacking and for developing new jailbreak and unlock tools. If there are some people who think they will get iOS 6.1.3 jailbreak from P0sixninja they are wrong. According to the hacker: "no jailbreak, just pieces so others can help research and development."
Here below I found a conversation on Twitter between p0sixninja and musclenerd about all this stuff. You can read it from the bottom to the top where things got cleared: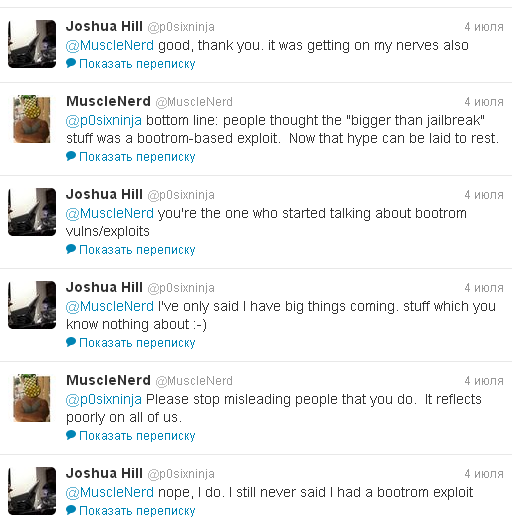 It is a very nice and useful idea. You can't find something like this on the web. Of course, such sources as TheiPhoneWiki are full of useful information about iOS hacking, but p0sixninja promised something new and I'm sure we will get it.
At the moment of writing this article the official site hadn't any content. But it is not a problem because p0sixninja tweeted that he needed more time for "cleaning up and preparing code…". Here below you can see what he tweeted about the delay: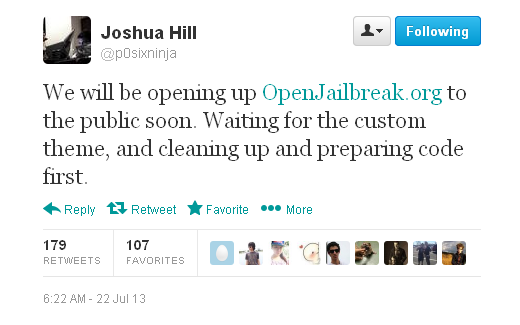 I'm sure that it has a big future if we believe that open source will help to find exploits to jailbreak iOS device. It also gives a chance for every one to develop it's own hacking tool or find his own exploits for the future tools. Any of you, developers, can use data stored in OpenJailbreak site to find jailbreaking ways for future iOS updates. Yes and it is really more than jailbreak.
Use comment section below to tell us and our readers what do you think about all of that? What will be the future of openjailbreak source? Will it be really useful for hackers and for the ordinary iUsers.