Use Pwnagetool 5.1.1 To Jailbreak Your A4 Gadget Preserving Baseband for Unlock [How to]
Good news for iPhone unlockers. New jailbreak Pwnagetool 5.1.1 was release by iPhone Dev Team to help you to preserve your old baseband for ultrasn0w or commercial unlock.
Pwnagetool 5.1.1 was developed only for A4 devices and it lets you build a IPSW firmware file that will jailbreak your A4 device after getting restored . This jailbreaking process is good for people who want to preserve their iPhone's baseband for keeping the opportunity to unlock their iPhone. In addition this Pwnagetool 5.1.1 jailbreak is ideal for people who wish to customize their jailbreak for the iPhone, iPod Touch and iPad.
A few hours ago I wrote you how to untethered jailbreak iOS 5.1.1 using RedSn0w 0.9.12b1 and here I want to show you how to do the same but using Pwnagetool 5.1.1 jailbreak on A4 devices.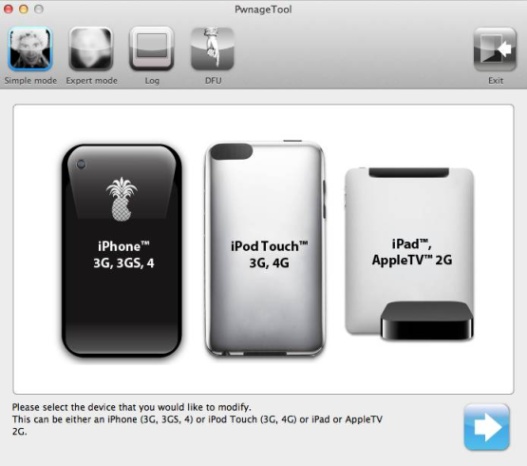 Note: Pwnagetool 5.1.1 is made only for Mac users and A4 devices. If you want to use Windows you need to use VMWare or Snowbreeze 2.9.5 jailbreak to perform it on Windows.
How to Use Pwnagetool 5.1.1 To Jailbreak A4 Device
Note: Before you start I advice you to back up your device because we will restore it.
Step 1. Download Pwnagetool 5.1.1 here.
Step 2. Launch Pwnagetool 5.1.1 by double clicking on the icon after downloading.
Note: If you see the window that asks you to launch the downloaded file just click Open and then click Ok.
Step 3. Now select Expert mode option on the top of the Pwnage 5.1.1 jailbreak window and choose your gadget you want to jailbreak and click blue arrow.
Step 4. In the next screen click Browse for IPSW… to choose the iOS firmware you want to jailbreak. Pwnagetool 5.1.1 will choose it automatically but if not then show it by double clicking on Browse for IPSW… and choose IPSW firmware. If you haven't it then follow this link to download iOS 5.1.1 on your Mac.
You can locate the IPSW file here:
~/Library/iTunes/iPhone Software Updates
After you choose it click the blue arrow.
Step 5. Now you will see the window where Pwnagetool 5.1.1 offers you several options. Let's take a small roundup through these options:
General Settings: Here it is possible to customize features of your jailbreak including root partition size, activation ways for people having an unofficial carrier on the iPhone and you're able to re-enable functionality for people who are jailbreaking A4 gadgets. Note for unlockers: Make certain you click the activate the phone feature if you use an unofficial carrier on the iPhone.
Custom Packages: Just select Cydia to be installed.
Cydia Packages: Here it is possible to select Cydia packages to be pre-installed if you restore the custom firmware file.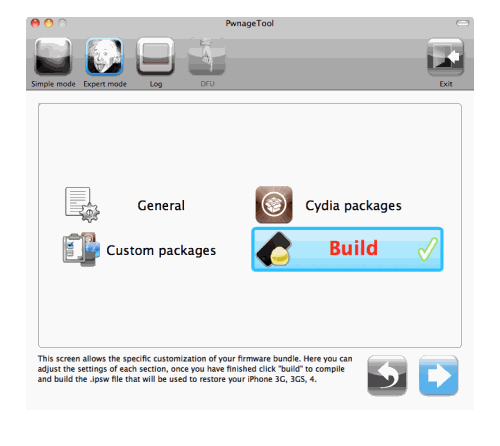 After you customize your jailbreak just return to the main screen and click Build.
Step 6. Now select the folder where is located your IPSW file and wait till it build custom firmware.
Step 7. After the building process completes enter the DFU mode and Pwnagetool 5.1.1 will show you the message that you have successfully entered DFU mode.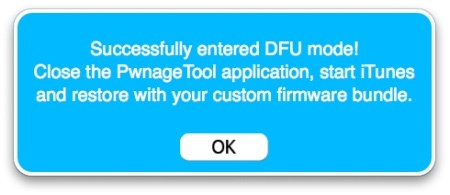 Step 8. Now iTunes must display the window where it asks you to restore your iPhone. To do this just click Restore button holding Option (Alt) and choose in the popping up window _Custom_Restore and just wait.
Step 9. After restoring just reboot your gadget and enjoy.
That's it. Now you know how to use jailbreak Pwnagetool 5.1.1 to preserve your old baseband for unlock. Pwnagetool 5.1.1 jailbreak your A4 untethered so you can enjoy it.
Update: Install Ultrasn0w 1.2.7 to unlock your iPhone 4, 3GS.
If there are some questions you can leave them in the comment section below and our team will try to help you.