How to Quickly Launch Apps on iPhone with 3D Touch Jailbreak Tweak
It is possible to quickly launch applications on your iPhone using 3D Touch jailbreak tweak. It supports iOS 9 but you have to be jailbroken. If you are running any firmware version up to iOS 9.0.2 – you can use Pangu jailbreak program that is working with iOS 9, 9.0.1 and 9.0.2 versions as this is the main requirement for using different tweaks.
There are a few 3D Touch tweaks iOS 9 that can add some extra options to your iPhone. You know that the real 3D Touch is brought to iPhone 6s and 6s Plus by Apple and the tweak really improves the options on these two models. This feature officially doesn't support earlier smarthone models so users with iPhone 6, iPhone 5s and other devices that are supported by iOS 9 also dream to get 3D Touch quick actions. This is possible to do if you are jailbroken and installed any tweak that brings 3D Touch options [for example, RevealMenu program or similar tool].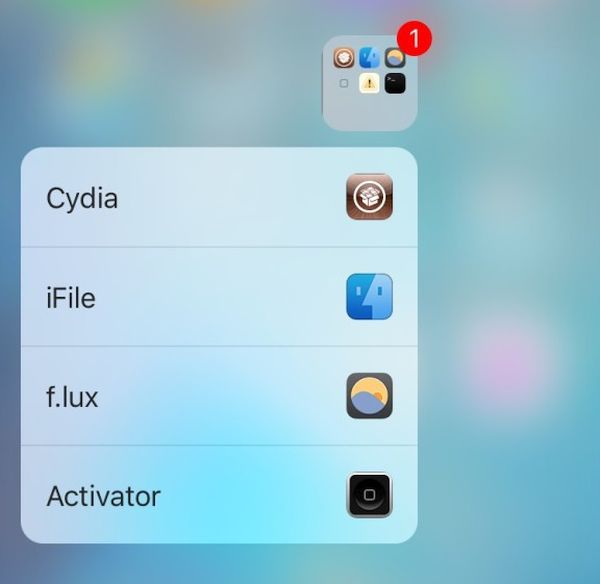 Quick Launch Apps iPhone iOS 9 Guide
Step 1. Great news! The 3D Touch jailbreak tweak called Appendix is free to download and use. This is a no cost package available on the BigBoss repo on Cydia. You can download and install it if you are jailbroken.
Step 2. You'll be able to interact with iPhone folders in a great new way. There is nothing to configure so you can enjoy the new features right after the tweak is installed.
Step 3. Using the tool you can easily and quickly launch programs in a folder. Just force touch on any folder and you will see a list of shortcuts with the first 4 applications that are inside this folder. Tap on any app and it will be launched at once.
If you use the tweak you don't need to open your iOS 9 folders any more in order to open a program. Jailbreaking makes it much faster to get to the iPhone app of your choice without opening the folder.