How to Setup iOS 6 on iPhone 3G / 2G Using WhiteD00r 6 | Download
Now you can install iOS 6 on iPhone 3G and 2G with WhiteD00r. Starting with iOS 4, Apple refused to support the original iPhone (2G) and first iPod touch player. Also users of iPhone 3G and iPod Touch 2g can't update their devices to iOS 5 and iOS 6. The reason of such decisions company justified the low performance of these devices.
Update: Now you can use Whitedoor7 to install iOS 7 on iPhone 3GS and other non-supported models.
The Matteo Morando project WhiteD00r decided to restore the injustice and provide the owners with outdated smartphones and players access to features the latest Apple OS. For this the developer releases a modified firmware for the first and second generations of iPhone and iPod touch which flaunt the benefits of current assemblies.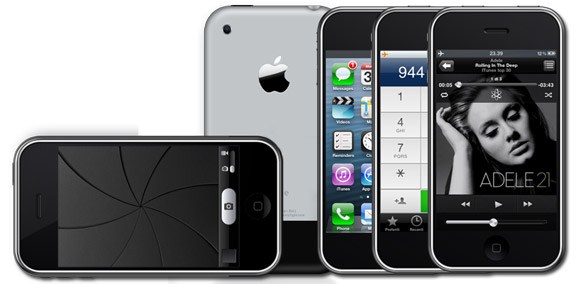 WhiteD00r 6, contains a full list of iOS 6 features: wallpaper, system sounds, translucent Dock and menu bar, folders, updated icons, support for iCloud, voice control, multitasking bar, Reminders, Kiosk, MMS, focusing function tapu on the camera, the video, the menu in Safari and more.
The developers emphasize that the performance of mobile devices on its custom firmware does not suffer. To demonstrate all the features of iPhone 3G running WhiteD00r 6 Developer recorded the official video:
Download WhiteD00r 6 on iPhone and iPod touch And Install iOS 6
Step 1. Make a backup of your iPhone or iPod touch in iTunes.
Step 2. Select the appropriate firmware and download it to your desktop.
Downlo0ad WhiteD00r 6 for iPhone
Download WhiteD00r 6 for iPod Touch
If you have officially purchased iPhone you should download the normal firmware. For users of jailbroken devices – custom firmware. WhiteD00r also works on 06.15.00 baseband but you can always downgrade iPad baseband to normal, unlockable modem firmware. After iOS 6 installing you need to patch push-notifications to unlock iPhone. Baseband version will be not updated!
Step 3. Unzip WhiteD00r file and open iTunes. In the left pane, select the iPhone or iPod touch, and on the right, click the Restore button holding down the ALT (on the Mac) or SHIFT (on Windows) and select IPSW-firmware file you downloaded in step 2.
Step 5. After installation, reboot your device and iTunes offers to restore the data from backup.
That's it. Now you can enjoy installed iOS 6 on iPhone 3G or iPhone 2 as well as on iPod Touch 1G-2G. There is no need to unlock your device because there are many solution for these iPhone models, but if you have problems with that you can find out how to unlock iOS 6 and use any SIM card and baseband.