Upgrade iPhone 4 and 3GS to iOS 6 Preserving Baseband [How to]
It almost half and a month passed after new iOS had been released. But many iPhone users can't update their gadgets to the new iOS firmware because they know that baseband will be updated too and they will lose unlock, so here you will find out how to upgrade iPhone to iOS 6 and preserve baseband for using previous unlocking solution.
Earlier update from iPhone Dev team brought many new long awaited features. You can update, re-restore, jailbreak and unlock your iPhone using new options in new Redsn0w 0.9.15b1. Yesterday I showed you how to jailbreak iOS 6 using Redsn0w 0.9.15b1 and today I got good news for those who use unlocked iPhone and want to update it to iOS 6 but afraid of losing unlock. Finally Redsn0w 0.9.15b1 can do it and I will show you how.

How To Update iPhone to iOS 6 Preserving Old Baseband
Note: The tutorial guide below is appropriate for Windows and Mac OS and you can use it not only to upgrade to iOS 6 but to any other iOS firmware.
Step 1. To begin with you need to download two essential software for successful upgrade:
Step 2. Unzip Redsn0w and open it.
Note: Run as Administrator on Windows and open it by holding down control button click Redsn0w app and then click Open on Mountain Lion (Mac OS X).
Step 3. After you launch Redsn0w click Extras => Even More => Restore.
Step 4. In this Window click IPSW button and choose iOS 6 firmware you have downloaded in step 1.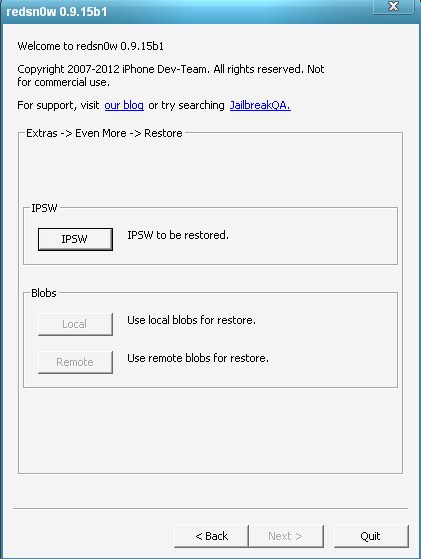 Step 5. If you really want to prevent the baseband from being updated click Yes.
Step 6. Now connect your iPhone to Mac or PC and click OK.
Step 7. After you will see well known screen for entering DFU click Next and follow on screen instructions. If you don't enter DFU for the first time just click Back and try it again.
Step 8. If you successfully enter DFU mode Redsn0w will exploit your iPhone with Limera1n and begin upgrade to iOS 6 preserving baseband. All you can do is to relax and wait till the end of the process.
That's it. Now after the end of the process your iPhone 4 or 3GS will be upgraded to iOS 6 but with preserved baseband, so you can apply your unlocking solution again.
But I have better way to unlock iOS 6 and you can use it without any software!