What Is iPhone IMEI Number and How To Decode It
A lot of people ask the same question. What is iPhone IMEI number? Is it important? We'll give you an easy-to-understand answer so that you know everything about IMEI.
Don't confuse IMEI # with Serial Number. You can find out how to decode Serial number as well but here we will talk about International Mobile Station Equipment Identity.
Every iPhone and any other GSM smartphone has a unique code. Not only it has a phone number and parts' identifiers, but it also has unique identifiers. They are very important for managing the subscriber mobility. They also help to address all network elements.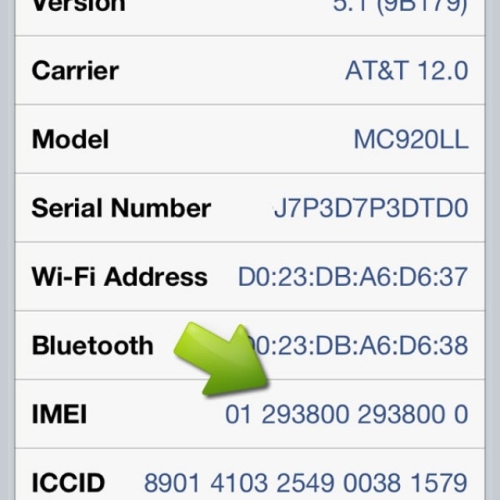 What Is IMEI Number of iPhone
This is not exactly a serial number for your handset, but it is a kind of it. The IMEI code helps to find out if the gadget has been stolen. It also helps to recognize obsolete equipment and smartphones that don't function. Also you can use this number to unlock iPhone. Follow the link to find out how IMEI unlock works if you are interested.
IMEI is one of the most important identifier for your mobile gadget. The four letters stand for International Mobile Station Equipment Identity. It is mentioned under your battery or inside the package or in the Sim Tray. You can always see the full 15-digit number by entering *#06# on your virtual keyboard or going to Settings -> General -> About.
Each smartphone manufacturer allocates the International Mobile Station Equipment Identity. This code is being registered by your network provider. If you don't know to what carrier (network/operator) your device is locked you can use iPhone network checker and get results in a minute.
The IMEI number consists of four parts – TAC + FAC + SNR + SP
I'll explain what each part means. The device manufacturer assigns:
6 decimal places for Type Approval Code [TAC] – meaning the carrier to which iPhone is locked.
6 decimal places for Final Assembly Code [FAC] – meaning the manufacturer.
and Serial Number [SNR] where you can find the information about the date of the smartphone's production.
1 decimal place for Spare [SP].
How To Unlock iPhone Using IMEI Number
As I said this number is good to find iPhone if it was stolen or lost. But what is the most feature of these 15 digits is that you can use IMEI to unlock iPhone running any iOS firmware and any iOS version.
This is the only unlock that is legal and confirmed by the locked carrier and Apple. Just provide IMEI to the unlocking company and your gadget will be officially unlocked for any Sim card around the world and any iOS update.
Here below you can also find the answer on what does IMSI really mean.