How to Block Ads on iPhone iOS 9 Instruction
Did you know that iOS 9 iPhone ad blocker is available to iPad and iPhone users who have upgraded to the latest mobile firmware from Apple? The company has added a lot of changes to its platform. It doesn't let you customize everything but it starts to offer more functions and awesome features.
Learn how to block ads on iPhone with the newest firmware. By the way, you can download iOS 9 ipsw file for your iDevice if you haven't done this yet. It is also possible to downgrade iOS 9 to 8.4.1 while this firmware is being signed by Apple [this option won't be available forever].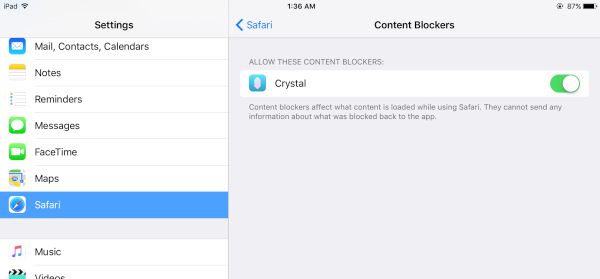 How to Block Ads on iOS 9
Step 1. First make sure your device supports the option. If you have iPhone 5s, 6, 6 Plus, 6s or 6s Plus you can easily block ads in Safari. Users with iPhone 5, 4s and 5c cannot use this iOS 9 trick which is sad as they also cannot take advantage of iPhone face down option that preserves battery life.
Step 2. Download the content blocker app from the App Store. There are a lot of titles to choose from: Freedom, Blockr, Silentium, Crystal etc.
Step 3. Install the tool.
Step 4. Open Settings and choose Safari where you will see Content Blockers menu.
Step 5. Turn on your blocker.
Step 6. Start browsing Safari without advertisements.
The feature lets you block pop up menus, ads, javascript and even more when you are using Safari for web browsing.
What do you think about such possibilities? This is not native iOS 9 feature as you still have to find an application that will block your ads. Still it's a new option that is not available to iOS 8 users.