Download Pangu Untether Package Update iOS 9 on Cydia
If you are using Windows computer and running iOS 9, 9.0.2 or 9.0.1 firmware version on iPhone – you can use Pangu update 9 that supports this firmware and makes it possible to untether jailbreak modern iPhones, iPads and iPods touch models.
Users who are already jailbroken and don't plan to install iOS 9.1 version on their iDevice [this firmware is unjailbreakable right now because Apple killed the exploits found by Pangu team in earlier iOS 9 releases] – can grab Pangu untethered package iOS 9 update from Cydia store, solve some issues and improve the bootup procedure.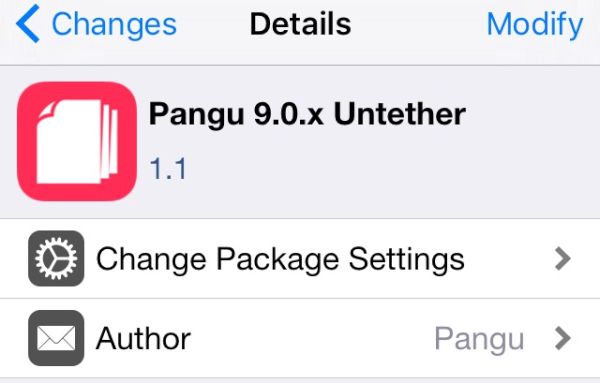 How to Download Pangu Untether Package Update iOS 9
Step 1. Launch Cydia store on your jailbroken iPhone or iPad.
Step 2. Go to Changes menu.
Step 3. Choose Pangu 9.0.x Untether package update.
Step 4. Refresh Cydia.
Step 5. If you update the new package you should have no issues with your bootup on 64-bit gadget. You should have no issues using functions in Xcode. Other problems were also solved.
For example, there were reports about Pangu jailbreak for iOS 9 – 9.0.2 causing Boot Loop of Death [here is how to avoid BLOD bug] and the main reason were unclean reboots. Users were advised to avoid rebooting and use only the clean method. However now with the package update the chance of you getting boot failure should be lower.
Users who didn't jailbreak yet but installed iOS 9.1 and wish to get back to iOS 9 are able to downgrade. Apple is still signing its previous firmware version so iPhone and iPad owners have a chance to jailbreak with Pangu if they return the jailbreakable operating system on their gadgets.
Mac users can run Pangu jailbreaking tool on their OS X computers if they install virtual machine. The Pangu program currently supports on Windows platform.