Evasi0n Update Release for iOS 7.1 Beta 3 Jailbreak and More Fixes
Users with iPhone, iPad and iPod touch who have installed iOS 7.1 beta 3 can now officially jailbreak this firmware. Apple presented its third beta version for the latest mobile operating system for fruit devices not so long ago. The first developers and iOS users who have updated to this beta were able to perform unofficial untethered jailbreak since previous Evasi0n tool didn't officially support this beta.
The Evad3rs team has now created Evasi0n 1.0.4 that is meant for iOS 7.1 beta 3 jailbreak. The program also comes with fixes to problems discovered in previous releases. For instance, it should fix the problem with iPad mini boot loop and other things users experienced in the past.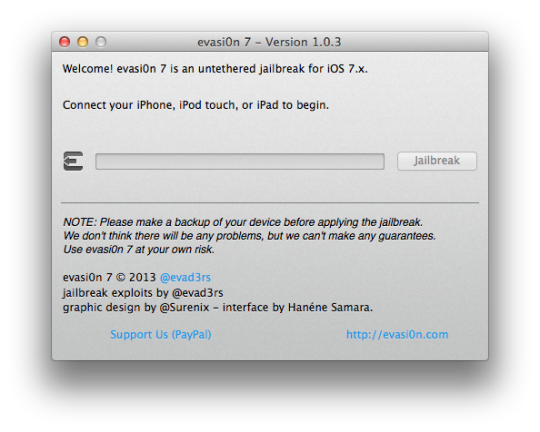 Have you tried the third beta of the newest Apple firmware for mobile gadgets? You are now safe to hack your iPhone, iPod touch or iPad [iPad mini]. What has been changed in Evasi0n7 utility after the update to v.1.0.4? Let's see what hackers say about their creation.
Some owners of the iPad mini with Retina display had one huge problem with jailbreaking. Their tablet faced boot loop bug and it didn't matter what machine they were using for exploit. The issue appeared on both Windows PC and Mac OS X platforms.
Besides, the tool comes with an updated Cydia bundle.
Users who have successfully jailbroken their iOS 7 devices using previous releases of Evasi0n can stay away from this update. There is no need for re-jailbreaking. iPad mini users who wish to fix their problems can perform jailbreak once again as well as users who are now testing iOS 7.1 beta 3.
You can download v.1.0.3 of Evasi0n7 from the links below:
Make sure you backup your smartphone or table before you jailbreak.