How to Jailbreak iOS 7 Devices Untethered Using Evasi0n 7
On Sunday, the hacker group Evad3rs has released new jailbreak exploit called Evasi0n 7. With it every iOS 7 – 7.0.4 user can jailbreak iPhone 5S, 5C and any other device. The exploits for iOS 7 were found by known hackers Pod2g, MuscleNerd, Planetbeing and Pimskeks and assisted by Phoenixdev and Surenix.
To perform jailbreak iOS 7 – 7.0.4, no special programming skills or knowledge of machine code required. You just need to click one button running evasi0n 7. iOS 7 jailbreaking is compatible with all versions of iPhone, iPad and iPod touch.
Before you perform a hack, it is recommended to update device to the latest  iOS 7.0.4 (there may be problems with iOS 7.1 betas). Although exploit easily copes with earlier versions.
Practice shows that the chance of successfully iOS hacking enlarged when your device is running clean firmware. In other words, first update iPhone and iPad using iTunes only. Don't forget to disable lock screen code.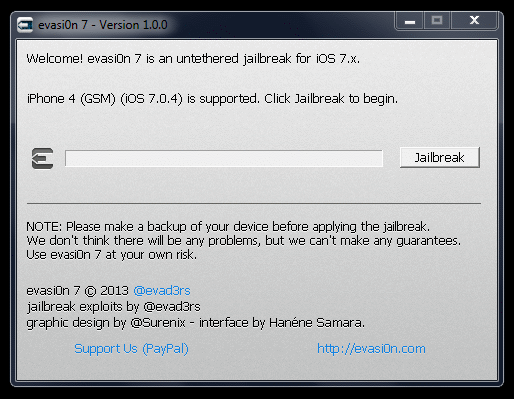 You will need:
iPhone 5s, iPhone 5c, iPhone 5, iPhone 4S, iPhone 4, iPad 2, iPad 3, iPad 4, iPad Air, iPad mini, iPad mini 2 or iPod touch 5.
Computer based on OS X 10.5 / 10.6 / 10.7 / 10.8 or PC with Windows XP or higher.
USB-cable to connect your smartphone or tablet to your computer.
How do Jailbreak iOS 7 – 7.0.4 iPhone and iPad using Evasi0n 7
Step 1. Download evasi0n 7 and the latest version of iTunes 11. On Windows extract the archive and run it as administrator. OS X can issue a warning that the program was developed by the developer. In this case, open the operating system settings and go to the Protection and Security section. On the bottom Check the checkbox in front of the item "Allow programs downloaded from any source."
Step 2. Connect your iPhone, iPad or iPod touch to your computer, click the iTunes and make a backup copy of the data.
Step 3. Make sure that the lock screen password is disabled.
Step 4. Evasi0n 7 detects the device's model. "Jailbreak" button on the window becomes active, click it.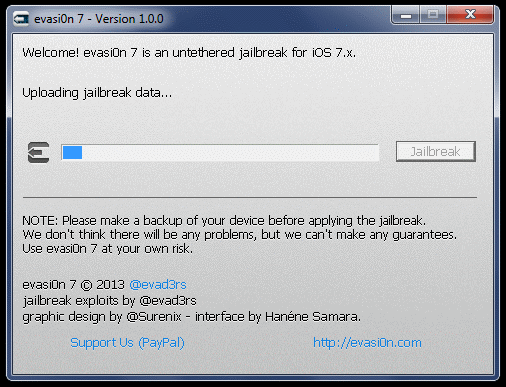 Now the application will perform hacking, reboot the device and download the installation of packages. The procedure can take some time. In any case, do not interrupt the installation, it can turn into a gadget "brick".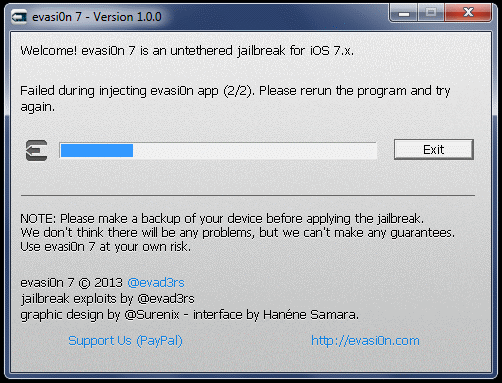 Step 5. When the screen displays the message "To continue, please unlock your device and tap the new 'Jailbreak' icon", unlock and you will see on your desktop a new icon "Jailbreak". Click on it. iPhone or iPad screen will turn white for a few seconds, and then will refreshes springboard.
Step 6. Evasi0n will continue to jailbreak iOS 7 which you can see overhead information about the process of jailbreaking on the screen.
Step 7. When you will see the message Done, the program can be closed. Now your iDevice will reboot. Startup process may take a long time.
Step 8. After downloading, you will see the Evasi0n logo on a white background. iOS device will reboot for a second time.
Step 9. Congratulations, you have successfully done jailbreak iOS 7 / iOS 7.0.4 on Windows and Mac! Open your iPhone, iPad or iPod touch and run Cydia!
Note: If after iOS 7 jailbreaking yuir device will be continuing rebooting ( "floating" Apple logo on the iPhone or iPad), switch the device into recovery mode. To do this, hold the power button and the Home button simultaneously until the screen turns off while, then release the power button but continue holding Home for another 20 seconds.) Now connect the gadget to your PC and run the recovery device through iTunes. Repeat jailbreak iOS 7 / 7.0.4 untethered jailbraking.
How to Unlock iPhone After Jailbreak
If you performed iOS 7 jailbreak to unlock iPhone you wouldn't do it. there are only two ways to unlock your iPhone or using official method – factory unlock or using unofficial turbo SIM unlock with R-SIM:
Ultrasn0w and Gevey SIM don't unlock iOS 7 iPhone any more. Maybe ApplenBerry or hackers will update their tools for the latest firmware or will wait for iOS 7.1 release.